Have you ever paused to think what a challenge it must be to force 70,000 plants into leaf or peak bud or bloom in time for the March opening of a show like this? Especially over the dark, rainy, sleety, snowy Ontario winter like the one we've survived in 2018-19!
That's an accomplishment in itself. And to use those plants imaginatively puts a flower on top. Our covergirl shot is a creative example. It's ornamental kale – the kind you buy for fall-to-winter containers – forced into bloom, like a bouquet of yellow fireworks.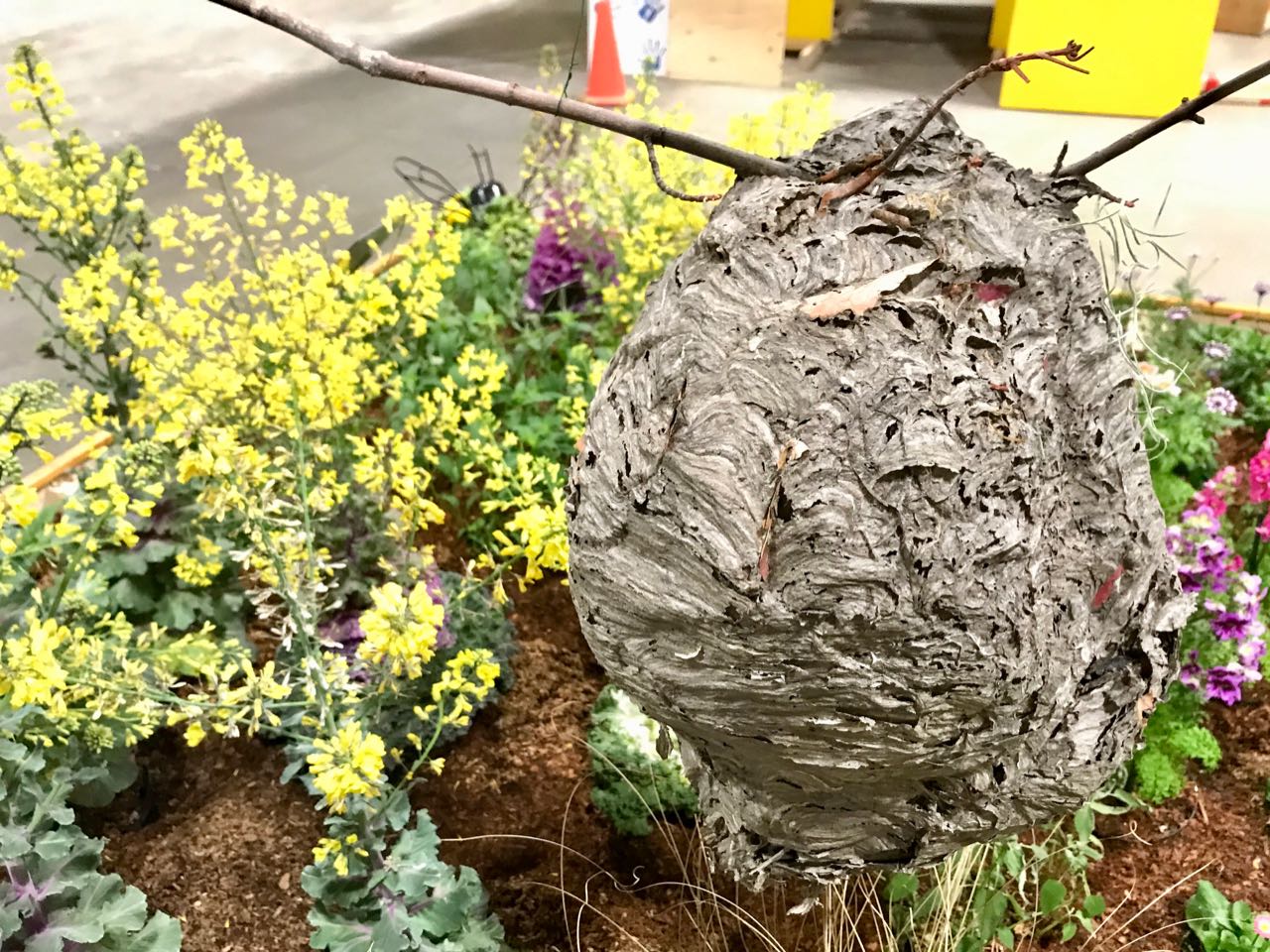 [I'll come back and update this post with a few more selections from the show – but I'll close this now in time for our subscription mailing. If you subscribe, be sure to check back to see them.]
Here I am again with more plants, so keep your eyes peeled – a horrible expression that our Gift Child can't bear to hear. But you know what I mean. Stay alert for these, starting with the Plant of the Year 2019 at Canada Blooms, a compact, long-blooming version of Weigela.
As an aside: How do you pronounce "Weigela"? I'm told you're meant to retain the pronunciation of the surname embedded in a name like that. So in German, the "W" is pronounced as a "V", the "ei" pronounces the second letter "i" and the "g" is hard, making this "V-eye-gella." Or so some say.
But then you say "For-si-thia," I say "For-seye-thia." Let's call the whole thing off.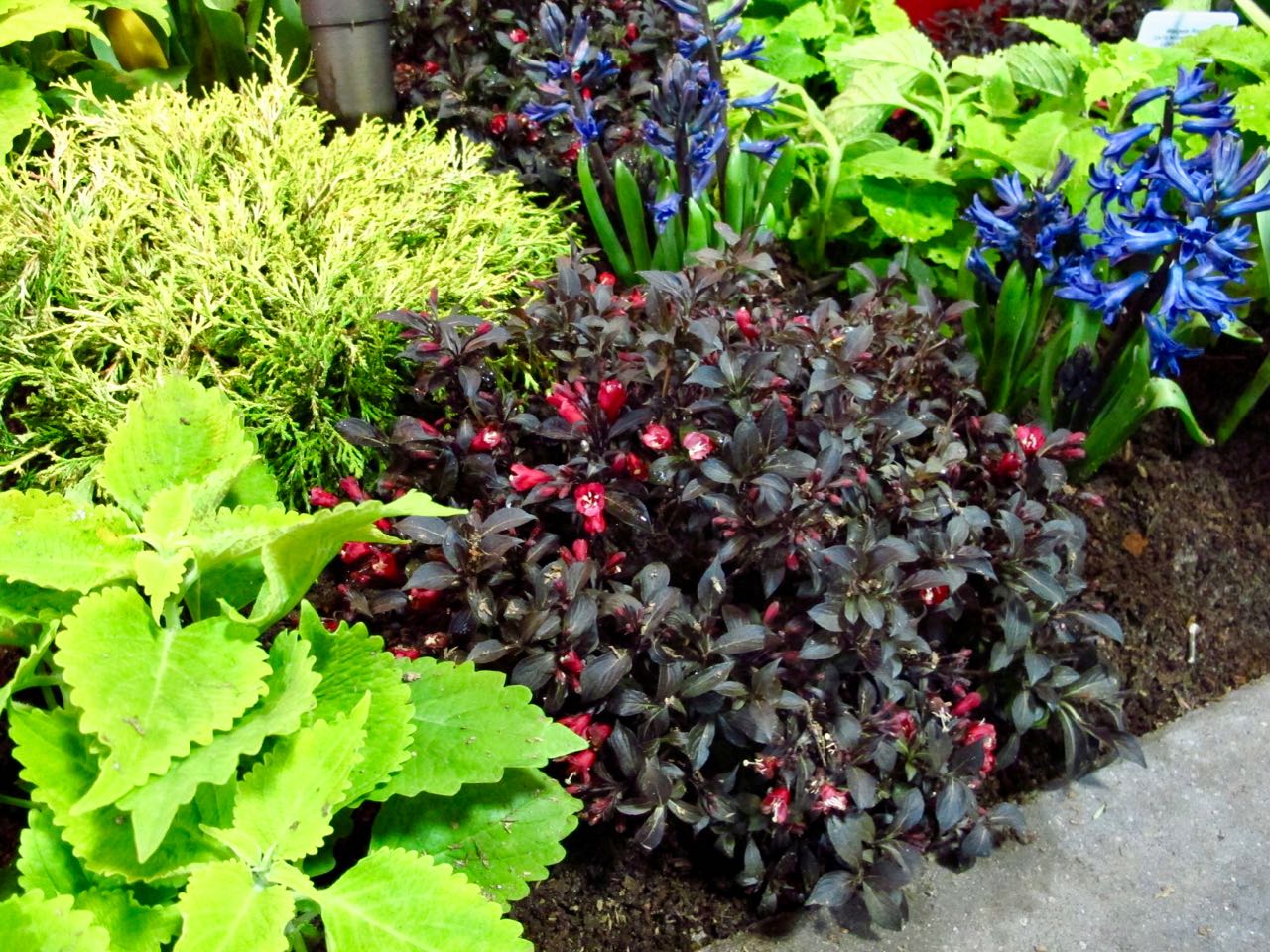 'Electric Love' is the first weigela on the market to combine dark foliage and deep red flowers, both of which will be more pronounced in full sun. Previous dark-leaved cultivars had pinkish flowers. It will stay compact – about 2 feet (~60 cm) tall and 3-4 feet (~90-120 cm) wide, so the awkward branching pattern that some weigelas have will be less evident. And as long as it's happy it will flower over a long period. Hardy to CanAg Zone 4.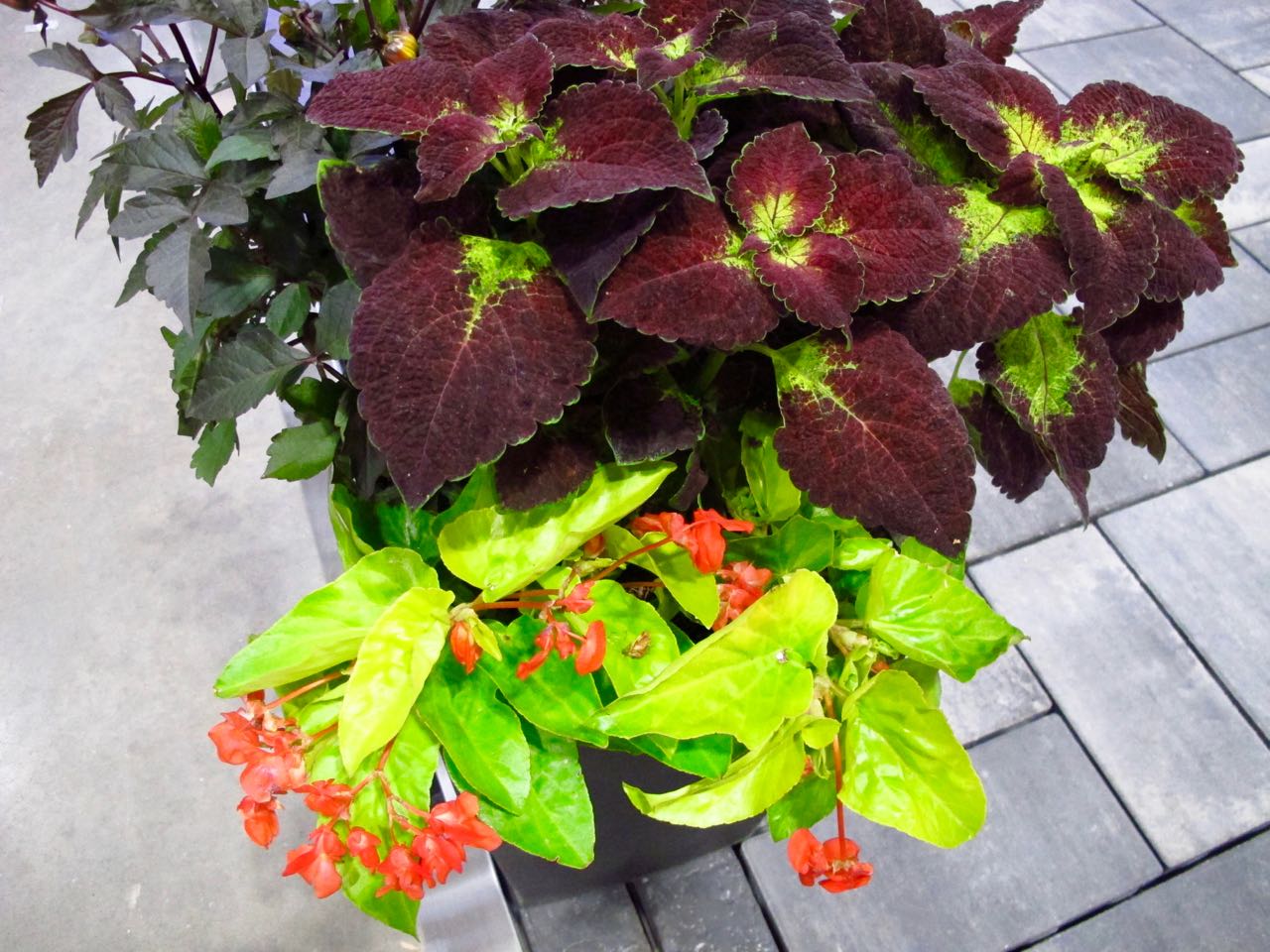 I'd just heard University of Guelph Trial Garden Manager, Rodger Tschanz, include 'Canary Wings' Begonia in a talk about new plants to watch. Then, a few steps away, I spotted the container above in a Unilock booth at the Canada Blooms entrance to the Home Show. It's a standout combo with the deep wine, with a splash of chartreuse, coleus (aka Solenostemon aka Plectranthus). I'll be looking for this one at planting time.
Someone on my early-morning tour today asked me, "What does Proven Winners mean?" I told her that it's a brand name that hopes to mean the best and most interesting plants on the market (but they tell their story better than I could). I have to point out that it doesn't guarantee that you'll have proven success with them, if your garden conditions or maintenance practises are wrong for the plant.
Nevertheless, the label does include some excellent choices. One I got to trial last year was an Angelonia. Now, I'm not a fan of describing one plant by referencing another, so I'm not fond of the common name PW is using for this plant, "summer snapdragon." But it does have the snapdragon's spiky form, and the individual florets in the 'Angelface' series are huge and, unlike a snapdragon, need no deadheading.
I've been wanting to write a post called, "Angelonia, where have you been all my life?" This will have to do for now. Last year, I trialed Angelonia Angelface 'Steel Blue' in a shady container in the front yard and, while it was a bit leggy from the lack of sun, it bloomed and bloomed and bloomed. Unsure why it's called "steel blue," though, as both my trial plant and the PW website show it as a pale purple.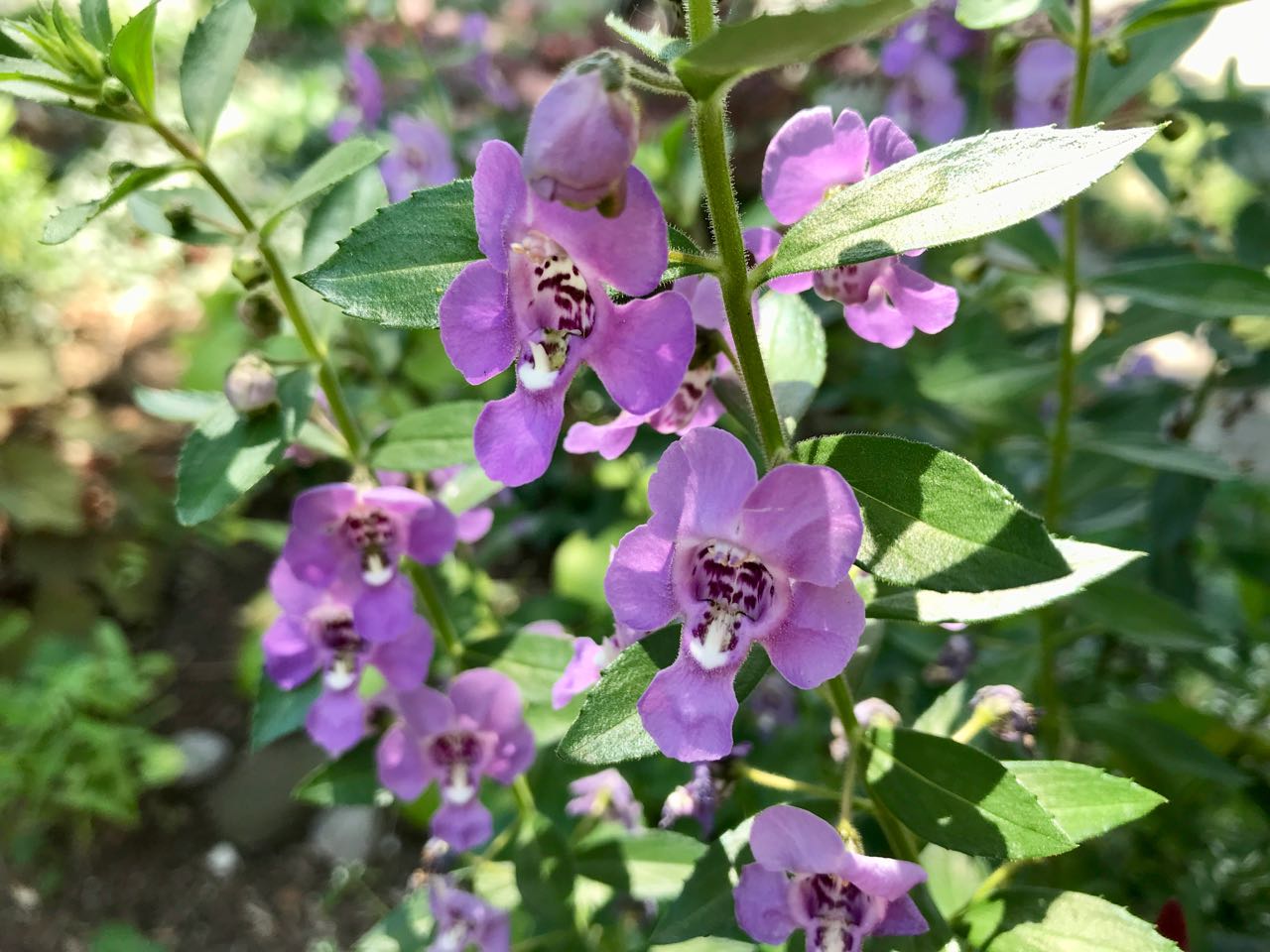 Another thing about the plants at Canada Blooms is that occasionally a garden designer will include an unusual plant. This year, I got a bit exercised over seeing three examples of the [Correction: American] snowbell tree (Styrax japonica 'Snowcone') in the Flattery Design exhibit. This is a native North American tree I'd seen only on slides, online or in books. So to see it in person, and in bloom, was exciting to this plant geek.
[Edit: As my readers correctly point out, while there is a native North American Styrax, the ones at the show are Japanese species. The fact that I've seen neither one, and currently suffer unrequited lust for this plant in any form, must be both my reason and excuse. Still sloppy, Helen! Here's a link to the American native snowbell from wildflower.org. Info from the Missouri Botanical Garden has it hardy to USDA Zone 6, making it hardy in Ontario's Niagara region (Canadian Z7) and perhaps borderline hardy close to the lake in Toronto.]
It [being the Japanese cultivar] 's not native to our area, but is hardy to AgCan Zone 6a, according to this link from Vandermeer Nursery in Ajax. What a lovely spring-blooming tree it is!
When speaking to our group of garden writers last Saturday, Mark Cullen reminded us that Canada Blooms is a "festival" not a "show." Immediately, I had to look up the definition. A festival is, "a period of celebration." A good description, I think. Our chance to celebrate things that grow.
After a winter like the one we're eager to say good riddance to, we need something to celebrate. Will you do that in the few days left of Canada Blooms 2019?