Helenium autumnale  – that's Helen's flower, to you. Not sneezeweed. Geez.
Enough about me. Let's talk about Helenium. I don't know what variety this is (perhaps its short stature points to 'Ruby Dwarf' aka 'Rubinzwerg'), but I wish it were growing in my garden.
Despite what they say about the need for full sun and moist soil, I have grown the plain yellow Helenium with moderate success for a number of years in the back garden of my shady, dry Microgarden. But increasing shade from neighbouring fence trees has forced me to donate my yellows to the sunny guerrilla garden across the street. They're looking happy there.
But not as happy as these lovelies, backlit by sunlight. Take a big peek. And you'll see that I'm not the only one that loves the flowers that bear my name. Or Helen of Troy's. I always get us mixed up.
This shorter variety (whatever it is) would look good towards the front
of a garden. Typically, Helenium is a reliable tower-er at the back, on stiff stems.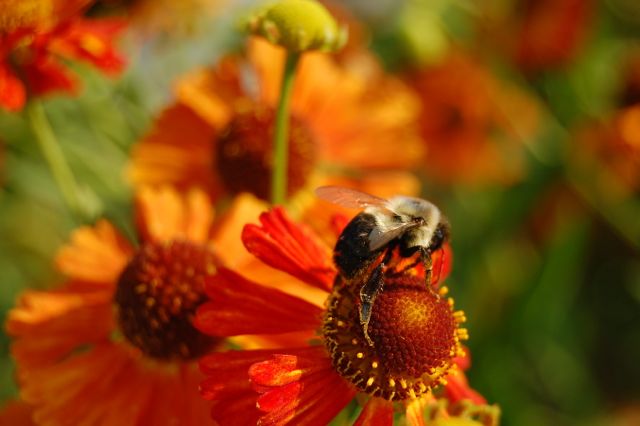 Some bee love for Helenium – and, as they do all members of the Compositae family,
butterflies and other pollinators love 'em, too.