Please don't think I'm all about the flowers. Walking through the neighbourhood today, I was impressed with this front-yard veggie plot. Unsure if you can see it in the smaller photo format, but this little river of vegetables goes aaaaaaaaall the way back.
To me, this looks like the work of an experienced and confident vegetable gardener. I might have said that the curcubits looked a little too close together, but when was the last time I grew anything in the squash family. However, that framework for the tomatoes means serious business.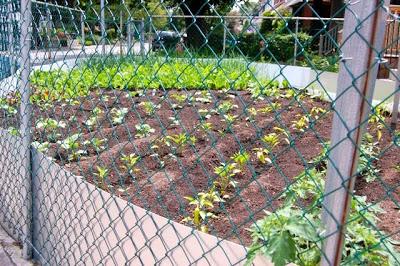 Now this is one awesome raised bed, supported on the sides by knee-high metal sheeting. Untold yards of soil went into filling this baby up.
The overlaps in the sheets are sure to leak somewhat at watering time. However, the ridges and valleys in this planting should slow down any quick run-off.
I'll be passing by from time to time this summer to report on its progress.