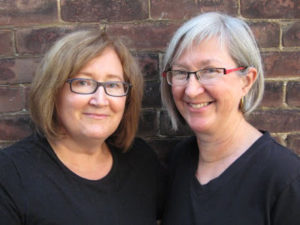 Helen's the big sister; Sarah's the little sister. For most of our children's lives, our families have lived two doors apart on a tree-lined street in east Toronto, Ontario (AgCan Zone 6; USDA Zone 5).
Trying to garden under Norway maples on land that was once the sandy shore of ancient Lake Iroquois, we have an intimate knowledge of what it means to fail and succeed in dry shade.
Sarah teaches graphic design at a community college. Helen is a garden speaker, photographer, volunteer Toronto Master Gardener, and powerwalker – not always in that order. In August 2021, Helen became a National Director (Canada & International) for GardenComm, the association for garden communicators.
Both sisters have been heard talking about gardening on CBC Radio, and garden podcasts, and have been interviewed for or contributed to national and international print and online publications.
Our family came from England to Canada when we were tots, and settled in Montreal. We then lived (and helped our family garden) in places from North Wales to the Northwest Territories, and small towns near Toronto before making our homes in the big city.
That wandering spirit shows up in multiple gardens, giving us an array of gardening experiences to write about.
Sarah: on an urban balcony garden, shady front garden, and sunny guerrilla garden; plus at her century schoolhouse on an acre of land north of Prince Edward County. She's also a Butterfly Ranger with the Butterflyway Project. Helen: front and back city gardens, including native plants, on two versions of dry shade, plus a container veggie plot. Both of us: lots of houseplants!
We each bring our perspective to Toronto Gardens, our Facebook page and Instagram. On Twitter, find Sarah @TorontoGardens and Helen @Gardenfix.
Like all bloggers, we love getting comments. Please, don't be shy!
Once we approve your first comment, you'll be a member of the club. Or email us at Helen [at] OR Sarah [at] torontogardens dot com.
We're proud to have won awards over the years, often due to readers' support. Thanks for dropping by!