Show's to go, you don't know what you've got till it's gone. We miss the grand entry gardens like this one from 2011
Helen: First, right out, we support Canada Blooms, and want it to succeed. We know how much goes into it, especially volunteer time (800+ volunteers in 2013). Plus, money (lack of) and logistics (complex) are huge issues. But truthfully the show has declined from its glory days (reminders here) and we want to do more than complain. So here is our 2014 Wishlist, meant to be constructive. Please join in and contribute your fresh thinking to the discussion, which is this Friday's Idea File. Ready?
Sarah: Well, my first thing is easy: more little cafés. It's become harder to find a place to sit and recharge. To talk about what we've seen or plan what to do next. When we sat in the two comfy chairs in the Reif wine garden (at around about 2:25 in that video), the attendant said: Oh, those are the hot seats; everyone wants to sit there. Two people were waiting to nab them as soon as we got up.
H: They had lots of seating in the 2011 Landscape Ontario exhibit. (For a small idea of what goes into the making of the show, watch volunteers build it in the timelapse video here. It took six days.) But it might not be a priority. People only stay at Canada Blooms an average of two hours, they say.
You'd hardly know Canada Blooms is so close to downtown
S: Even if they were encouraged to stay a bit longer; three or four hours. Rested people are likely to shop in the marketplace or head over to the other side. Think of the great foodies who could open pop-up cafés.
H: Yeah, but they'd likely have to pay big for the privilege. The prices at the food stalls were horrendous, which gives you some idea of the cost. People were crammed together on benches, clutching their pizza slices.
S: Couldn't there be a kind of partnership?
H: Promote Canada Blooms at your resto and we'll give you space? I don't know.
But that's another point. It would be great to create a link between the city and the show. Right now, there's a disconnect. The City didn't even have a garden this year, which is too bad.
On the Philadelphia Flower Show website, a map links to city bars promoting a flower show theme. Can we partner with hotels, for example? Most have a floral display in the lobby. Can we invite them to reflect the Canada Blooms theme? Perhaps give hotel guests special access to the early-morning docent tours?
S: Another thing: Speakers, one of the perks of the show. In olden days, speaker rooms were easy to find, set in a different area. Now, other than the main stage, it's as if they have a cloak of invisibility.
H: It's partly the building layout, partly the lack of wayfinding. Better signage for the speaker rooms on the side would be an easy fix.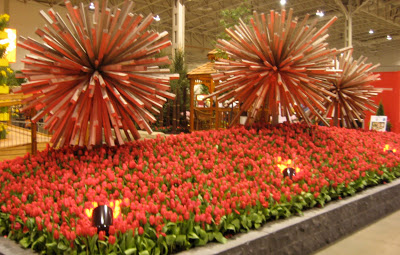 Reford Gardens dresses up a tulip bed with drama at Canada Blooms 2010
Speaking of wayfinding, near the top of my wishlist would be a stronger Canada Blooms presence at the entrances. More floral displays in the corridors (like the one we showed in this post). A big, splashy entry garden. This year's entry booth was pretty, but so tightly packed, it was hard to do anything but walk around it.
I'd also like a better gateway to and from the Home Show. The tulip beds were nice. But remember how Reford Gardens elevated a bed of tulips with one design element a few years ago? This is garden show after all. Garden design principles should be everywhere.
S: Yes, have a portal. Over there are the fridges and flooring, now you've entered the garden.
H: Perhaps even consolidate the garden and outdoor living stuff at the Home Show to create a relevant segué to and from Canada Blooms.
The Canada Blooms Marketplace in 2011 (From Canada Blooms website)
S: Is there any way to keep Canada Blooms to only five days? Some of the marketplace people can't afford to be away from their business for a whole ten days. The marketplace is sadly diminished.
H: Probably not. I can't see them allowing Hall A to be vacant. But we might as well ask.
Maybe the concept of short-term retail pop-up shops would work for the marketplace, and keep things fresh.
S: I missed seeing small-scale innovators like last year's VegeQuarium and that file cabinet with a grow light in the drawer.
H: Also missing were the schools. Cutbacks in education was part of the problem, unfortunately. But it's important to have young people represented at the show. It doesn't have to cost a lot. Remember the competition in 2008 where they made bird feeders out of junk? That was fun and cheap.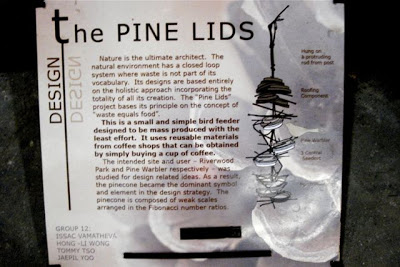 An entry from the 2008 bird feeder design competition.
The biggest question is how can we get more designers to participate? More of the best and brightest? The floral designers are stealing the show.
Right now, it's a trade show – which, of course, it always was. But if Canada Blooms is to bring in more of the adoring crowds it must be more than a trade show, it must be an experience. But it's costly for them to exhibit.
Teaming up with industries such as tourism was a smart idea – last year's Taipei and this year's Ireland. Which industries have dollars to spend that can be expressed through gardens and flowers? The small Re/Max gardens worked well, if somewhat lost in the 2013 show. I'd like to see them come back. Others? That's a brainstorming exercise in itself.
S: While you're thinking, I want more hyacinths!
H: A key ingredient in Eau de Canada Blooms. Hmmm. Let's contact Demeter with a fragrance idea.
They did go a little mad with hellebores this year – like with those odd pink flowers that were everywhere last year. I can understand the hellebores, in a way. They last forever, and for a ten-day flower show, that has to be a big saver. But, as Barry Parker said, why only one variety?
Okay, we'll shut up and let you have your say. We hope you'll add your creativity.