This Ward's Island garden whispers to me (loudly): a garden can never have too many alliums.
When you invite 70 garden bloggers to Toronto in early June 2015 (after a bitter winter and a long, cool spring), you'd better hope the gardeners have planted alliums – the ornamental onion – to fill the potentially gaping hole between spring bulbs and June fruitfulness. Fortunately for us, many did.
Allium bulbs can be pricey. If you don't have any yet (or want more), get yourself online now, as I did last summer, and order from Flower Bulbs R Us, a Canadian mailorder bulk supplier. The bulbs will arrive at planting time. I gain nothing from telling you this, except a smug I-told-you-so next June.
Speaking of alliums, here's what our bloggers saw in different spots around the GTA.
On Ward's Island, deep purple alliums make a delightful companion to an unrelated bulb you might like, Camassia, which is actually in the asparagus family. Camassia or quamash is a North American native, to boot.
Common chive is also an allium (Allium shoenoprasum). It's both an edible herb – besides the leaves, the florets taste chivey and look pretty in salads – and an ornamental plant. Imagine a bed of chive interplanted with its larger cousins. (Which I don't have to imagine, because I saw it this past weekend at Through the Garden Gate in Lawrence Park. Very effective.)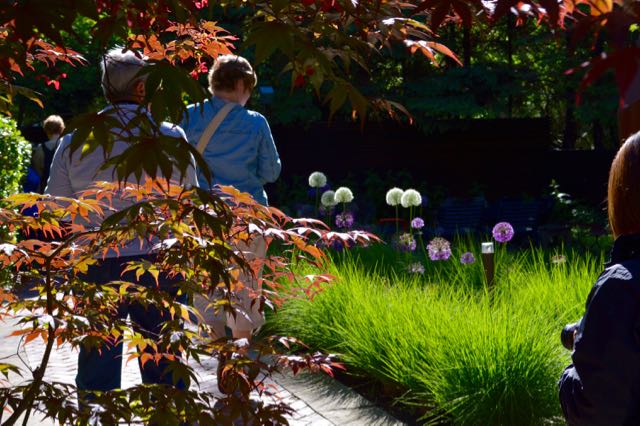 This strip of white and purple alliums, edged in grasses, with purple kale at the base, was one of the hits of the bloggers' four days of garden tours at the Toronto Fling. The flowers and foliage capturing the morning light here is perfection.
Of the many, with a stress on "many," plant combinations to photograph in Marion Jarvie's garden (check that link for her next open garden date), this pairing of alliums and clematis was a popular capture.
Later, our bloggers

descended like locusts

arrived at the Oshawa Valley Botanical Garden the weekend before the annual Peony Festival. Just in time to enjoy the inspired marriage of peonies and alliums, whether in separate beds…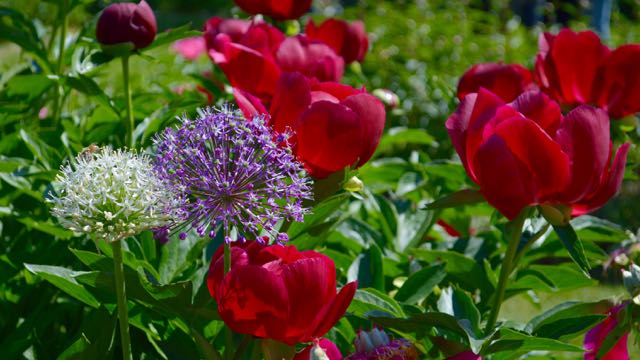 Or charmingly intermingled, as here. (However, the bridal parties there for wedding pictures probably found the gardens less charmingly intermingled with two busloads of bloggers weilding cameras.)
A private garden in the Bluffs varies shades at the blue-violet end of the spectrum, using Allium pom-poms, spiky sage (Salvia), the rounded, dark foliage of leopard plant (Ligularia), masses of Siberian iris, and the first flush of a thyme lawn.
Brides notwithstanding, it is nice to add bloggers to the mix. Here among the alliums at the Toronto Botanical Garden are Buffalonian Jim Charlier of Art of Gardening, Ohio's Kylee Baumle of Our Little Acre, and Nancy Patterson, Garden337, of Michigan. Just three of 70 bloggers to come to the Fling from 21 States, 2 UK counties and 2 Canadian provinces.
A trickle of alliums flows beside the curved water feature in the TBG's Westview Terrace, where we had our closing dinner. But I want them to plant more, more, more! Don't you? A garden can never have too many. Even one as small as mine. Although, it helps to plant alliums amongst other plants that will hide their lank foliage.
And, wouldn't you know, our Fling hotel, the Fairmont Royal York, had put alliums in their lobby,
just for us. Or so I like to think. The tall spiky flowers are the glorious foxtail lily (Eremurus).