In 2015, Through the Garden Gate lets you peek into the gardens of Lawrence Park
Garden tours let us be the ultimate snoopy gardener, stealing ideas from exploring snoop-worthy OPLs (Other People's Gardens). Toronto's grand master of garden tours is Through the Garden Gate, the annual fundraiser for the Toronto Botanical Garden. Each year, generous homeowners open their gardens to us in aid of the TBG. And, by the way, when the Garden Bloggers Fling in Toronto brought nearly 70 garden bloggers from all over the States as well as the U.K. to the TBG this Sunday, they were blown away. Toronto should be very proud.
This weekend, June 13 and 14, 2015, we can show our pride and support with our feet, eyes, and with so many wildlife-loving gardens, even our ears, by attending Through the Garden Gate. New this year is Petals and Pedals, where you can do the tour by bike along with a Master Gardener (not just any Master Gardener, Sara Katz of Wild at Heart Design) and an architectural expert. Lunch is included. Speaking of which, this year you can buy your lunch at the tour, another nice new feature.
I love the fact that in 2015, in addition to the professionally designed gardens, many have been created and maintained by the homeowners themselves – perhaps more than in other years. This is stuff we can do! So come, snoop, "steal" and enjoy.
She's certainly curvaceous. This is Hosta 'Marilyn Monroe.' It's always great to meet new cultivars.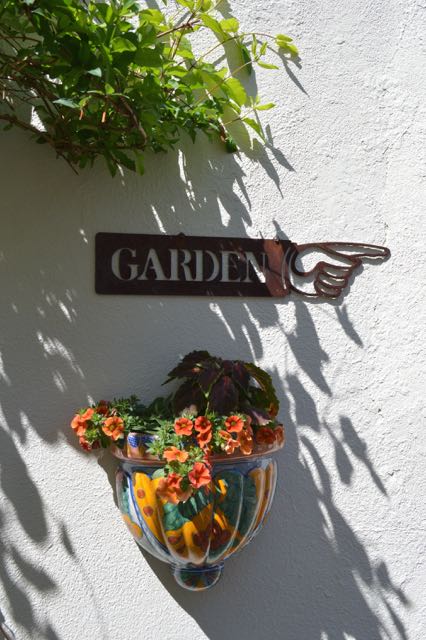 Not spoiling the surprise by showing you what the owners have created in their sunny side garden. Come see!
But here is a little surprise from another garden. Isn't this a cool lawn alternative?
A plant-lover's garden in shade, bumping right up against a lush ravine. Tweet, tweet!
Contemporary living space. On the press preview, it was easy to imagine ourselves lounging here.
A bit of Provence in the heart of the city. The rest of this garden transports you there, too.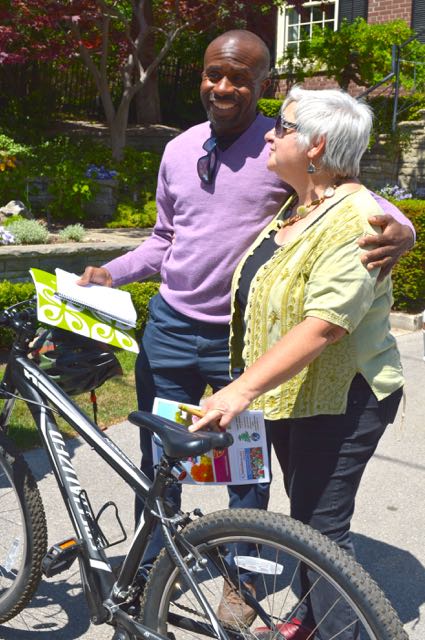 Toronto Bike Tour founder Terrence with Master Gardener Sara, ready to squire you around the gardens.
What a great way to spend the day.