What fun! Pool seating in a handful of jellybean colours.
As my beloved would tell you, I'm not keen on surprises. However, surprises in the garden are a few of my favourite things. The last thing Sarah and I expected to find behind the lovely Georgian home in Port Hope, for example, was this playful colour scheme for pool furniture – but we fell in love right away, snapping pictures like Hollywood paparazzi.
(November might be gratitude month for me, but this time you should be thankful that I don't show every shot. Chairs with the planter. Chairs with the table. Chairs through the hedge. Count yourself lucky this Friday the 13th.)
On reflection, though, these colours shouldn't have surprised us. The garden was candy-coloured, too.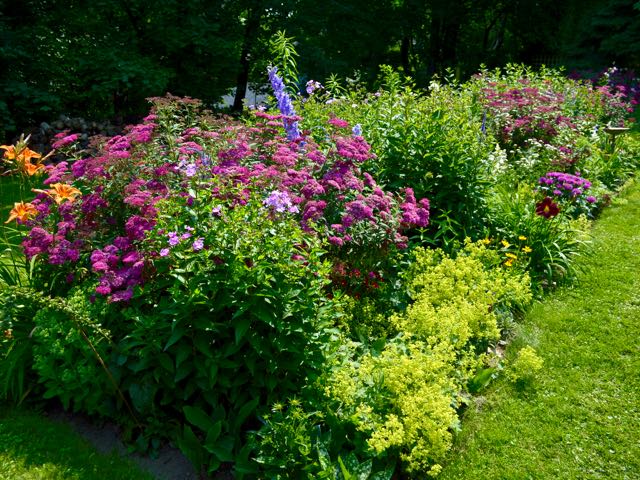 Here is one small portion of a long, long border of perennials and shrubs – in pink, blue, chartreuse and apricot, just like the chairs and tables by the pool.
The light was a little too bright to do the garden justice, but the view from this direction shows the length of the border.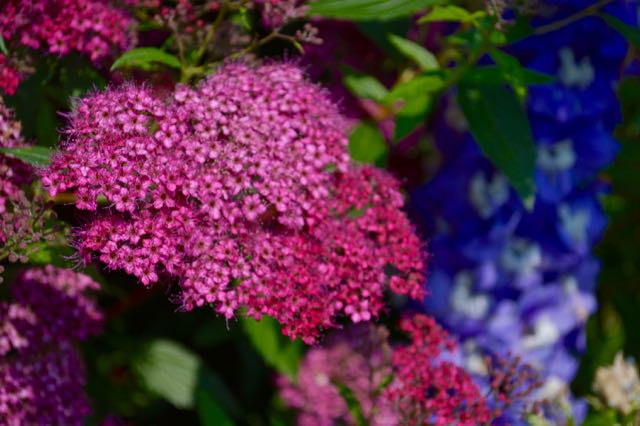 With the oversized lot, there was plenty of room to rhythmically repeat this Spirea (perhaps S. japonica aka S. x bumalda 'Anthony Waterer') to tie the long border together. It was nice to see it used in a mixed border this way.
Thanks again to the Port Hope Garden Tour for inviting us to visit. Hopefully, we'll see you in 2017.