A bright dogwood hedge (likely Cornus sanguinea 'Midwinter Fire') on Lakeshore Avenue East* [See Ed: below]
You know that it would be untrue. You know that I would be a liar. If I was to say to you, this is my 'Midwinter Fire.' No, it probably belongs to Loblaws, whose parking lot it borders along Lakeshore East. However, it certainly lit my fire as I walked by on a cold December morning. With its mixture of yellow, orange and red, the colour of its twigs is described as flamelike. Do you agree?
This location gives it the full sun it needs to really bring out the reds. Like all coloured-twig dogwoods, new growth glows brightest. For strong winter colour, prune yours back hard in spring.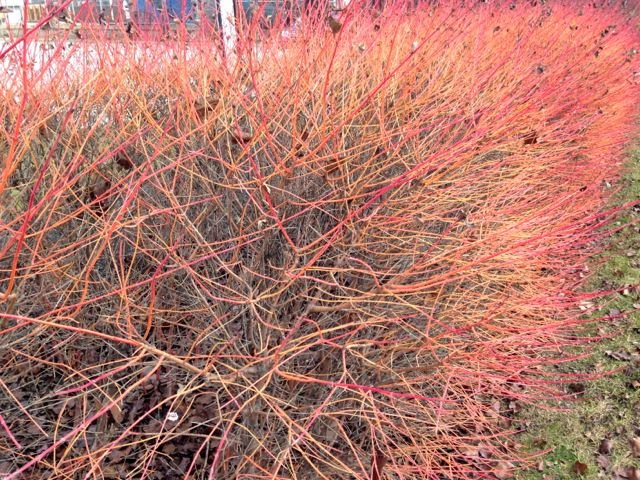 This shot gives you a better view of the plain brown older stems in the centre of the hedge. Prune to keep those fires burning.
[Ed: Huh. Learn something new every day. The real name of this street is Lake Shore Boulevard East. Two words on Lake Shore. I thought the Boulevard stopped downtown. Who knew? Perhaps, you?]