No, it isn't snow. It's the fluffy seeds of the eastern cottonwood (Populus deltoides). A row of mostly cottonwoods sits on the horizon at Tommy Thompson Park on the Leslie Street Spit.
Walking on the Spit last Saturday, my friend Sharon asked, "What is that white fluff, Helen?"
I was so glad she did. Because I often find myself boring my friends getting unduly excited about plants we see when we walk. But, as we've quoted from Jane Austen before, not everyone shares our passion for dead leaves or live ones, or in fact any part of plants.
"Look up," I was happy to tell her, because she wanted to know. "It's coming from the cottonwoods."
And I realized today that this post about our native eastern cottonwood tree (Populus deltoides) has been three years in the making. At least. That's how long I've been snapping pictures, intending to write about them. While that's given me an archive of shots at different stages, there are gaps.
Fortunately, the wonderful Canadian Tree Tours website has tree ID pages (with catkins, bark, and more) on this and many other tree species in Toronto. Scoot over there after you're finished here.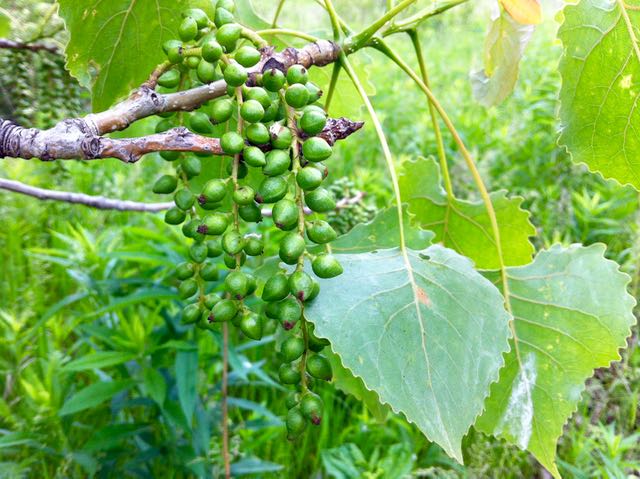 The eastern cottonwood is a type of poplar (Populus), and the specific epithet in its botanical name deltoides means triangle, related to the triangular leaves. But not all poplars produce "cotton." Here, you can see the dangly earrings of ripe fruit-bearing catkins on the female tree, with capsules getting ready to burst into fluff-factories.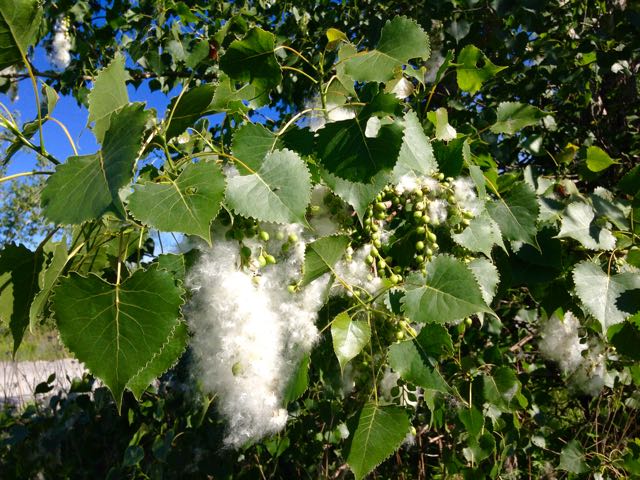 In June, the capsules open to release their fluffy, wind-borne seeds. Thousands of them. Millions! This article says 4 million to the pound. They float through the air like a summer snowstorm.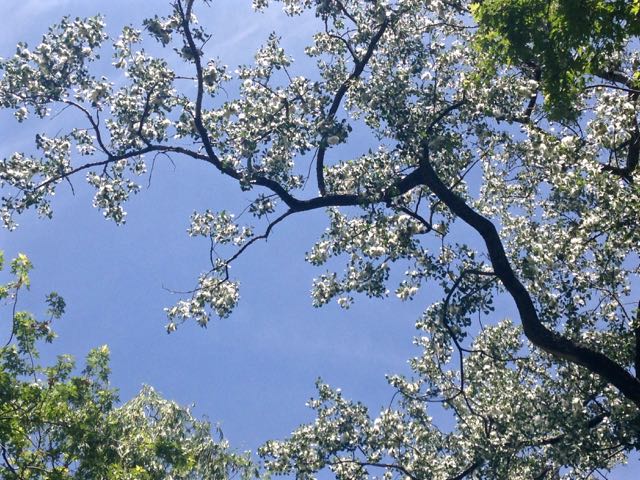 Looking up, you can see the white fluff getting ready to drift down from this mature cottonwood tree.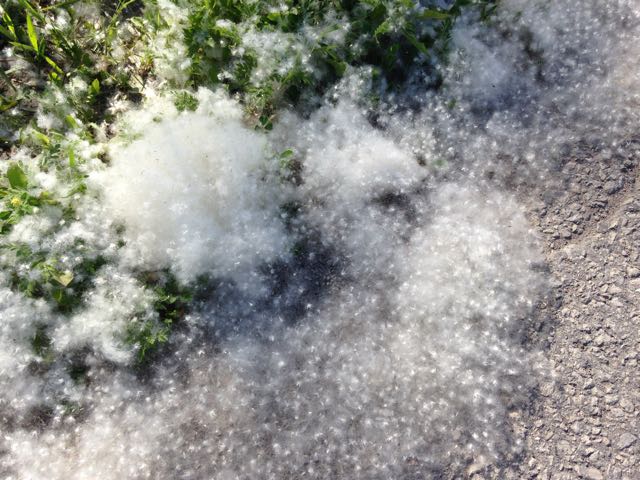 Looking down, you notice the "snow" clinging to the road's edge. And just about everything else.
Ever wondered if you can do anything with all that fluff? You aren't alone. Google coughed up this interesting thread from the Knitter's Review Forum. It talks about creating yarns from milkweed fluff, but mentions cottonwood and other natural fluff-makers in passing. And, for the sheer fun of visiting a site with the name Halfbakery, you might also find this anecdote amusing.
Thank you, Sharon, for helping me get that out of my system.