Look what I found at the industrial park! The contradiction in that phrase always strikes me as quaintly hopeful. It's industrial. Yet it's a park. Builders in the 50s and 60s must have been inspired by the great promise of industry – the same impulse that turned warehouses and pumping stations into cathedrals in the 1800s.
Today, as you can detect across the street through the foliage, not much of that promise remains in the east end's Bermondsey industrial park. The lawns surrounding the low-rise buildings – when the lawns haven't been replaced by sad-looking concrete parking pads – are more likely to sport day-glo-lettered sandwich boards than flowers.
The A1 Label office on Cranfield Road in East York not only made me crane my neck to look at it as I drove past, it made me come back the next day with a camera.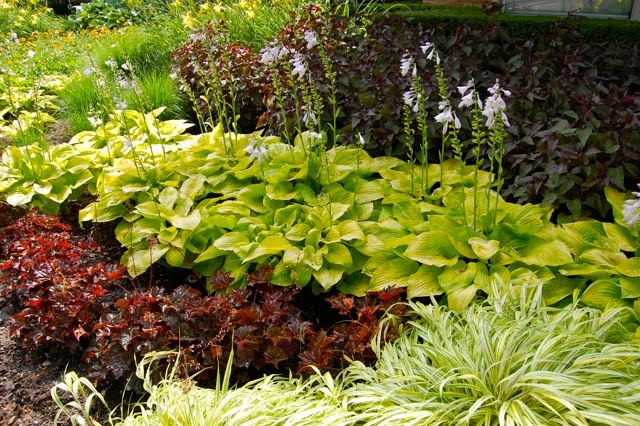 Great swathes of contrasting foliage colour and texture in golds, blues, reds and purples make an immense impact. And the masses of yellow daylilies, with probably more than a touch of 'Hyperion' blood, must make this one of the peak blooming periods.
A peep over the hedge reveals interesting artwork in the sunken courtyard. Wouldn't you love to work here?
Okay, so it isn't exactly "real gardens by real people." This archived article from a 2007 Interior Design magazine [Update: in 2016, this link is now a dead end] talks about the building interior, designed by luxe design firm Yabu Pushelberg and lists multi-award-winning-landscape-architect-so-great-he-doesn't-need-a-website Ronald Holbrook & Associates as landscaping consultant.
What can we regular Joes learn from gardens like this, though. One, we can learn that we need more of them around the city. Two, we can learn to steal delicious and masterfully paired foliage colours and textures wherever we see them. Three, we can learn that whether in an industrial park or in a depressed residential area (as we saw in Buffalo) great gardens can make spaces more welcoming, more livable, and way more photogenic.
OOTS is Out on the Streets, a meme created by British garden blogger Veep at Veg Plotting, who asks us to uncover and share garden inspiration in public spaces in our own neighbourhoods. Pop on over for a look at other OOTSian posts.