The poinsettia's real name is Euphorbia pulcherrima, meaning "beautiful euphorbia"
It seems that the Ecke family introduced poinsettias to the commercial market back in 1900 (Although I rarely point you to Wikipedia on the blog, you can read their story here). Today, the ubiquity of the poinsettia at Christmastime has made people say ecke! in increasing numbers.
Don't be a hater. I'm not (not of any plant). In the bleakness of December, I'm grateful for any plant that brings me colour – and the poinsettia brings. It's the cheery Christmas-sweater-over-a-big-fluffy-crinoline of plants. But I will admit this: you can't have just one. Like the layers of tulle in a crinoline, poinsettias are best used in numbers. Toronto blogger and gardener Paul Jung agrees. So does Sarah in her Fiesta Gardens mode. As they note and show, you can see them en masse till January 12th at the 2013 Christmas Shows at Allan Gardens and Centennial Park Conservatories.
Hope you find this post therapeutic. If you've been turned completely, here and here are links to help you care for it and even try to get your poinsettias to rebloom, if you're crazy committed enough.
No longer are you stuck with the traditional red and green
You might not try this at home, but it's fun to see the Allan Gardens designers have fun. Note the succulent seat. However, please resist the urge for off-colour comments on that last sentence. I am. Vigorously.
But when they are red, their colour is so vibrant, it blasts itself photographically into a new dimension
I confess to a weakness for picotee flowers – which have petals [Ed: I meant petal edges.] of a contrasting colour.
There's that superheated red again, boldly paired with purple Oxalis triangularis
Now a purple poinsettia brings out the sympathetic stripes in Tradescantia zebrina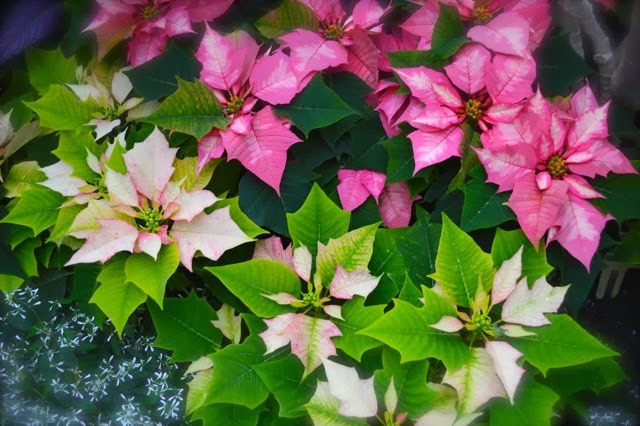 This shows the diversity in the huge Euphorbia family: our pretty pal Euphorbia pulcherrima with tiny, white Euphorbia graminea 'Diamond Dust'. The Euphorbia genus numbers a couple of thousand species, in every shape from cactus-like plants to rock garden staples to trees – which the poinsettia is in its native tropical habitat. Our minis are a grafted form.
A tiny peek at the Allan Gardens centrepiece. Go beat the snow and enjoy the real thing for yourself this weekend.
Colour incorporated.
Do come experience the display, whatever your faith (or lack thereof). It's a celebration of life in the depth of winter.