A shady entrance to the garden of plantswoman Marion Jarvie
Marion Jarvie's seasonal open gardens are a bit of an event among Toronto-area garden aficionados. But, although I'd seen pictures and even taken a class from Marion at the Toronto Botanical Garden, I'd never actually visited until we took the Toronto Fling bloggers there, the week after her May open garden (next will be Sept. 26 and 27, 2015).
Oddly, this is a garden that people seem to either praise or disparage. Why such opposite responses? It's a question I mulled over during our visit – and what I thought about as I edited my pictures.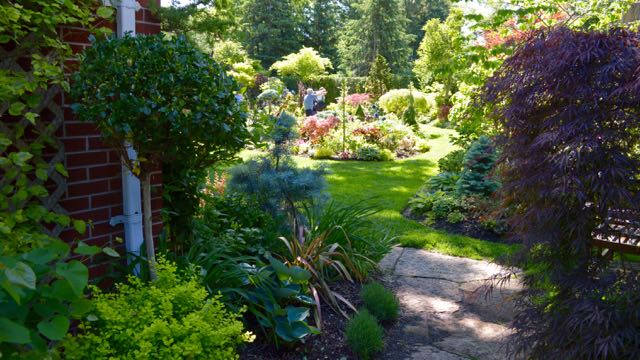 Marion Jarvie is often called a "plantswoman" – as I do in my opening caption – which most dictionaries define as a woman who loves and knows a lot about plants. We were about to discover that Jarvie's "love" is expressed as a collection. An extensive one. Like hers, my garden is a bit of a living lab, where specimens I get a crush on are put out to sink or swim. But mine is tiny; about as big as Jarvie's entryway. This is a large suburban lot. And it's jam packed with diversity.
Brilliant sunshine at midday is the most unforgiving time to photograph any garden. But a first look at midday in a garden like this is overwhelming. It's essentially a botanical garden on a small scale. And I think that's why people fall into the two opposing camps about it. If you had a garden design mixing board with two sliders, the one labelled "Plants" here would be dialled all the way up to 11. Or 12. Or, heck, 13 or 14. The one labelled "Design" would be somewhere around 7.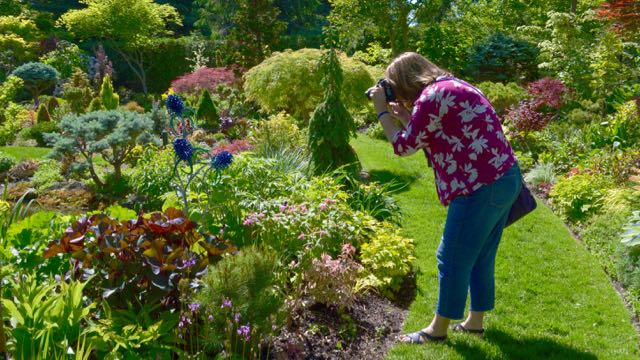 Pam Penick of Digging has the right idea above, zooming in for a closeup. As I reviewed my pictures, I started using the crop feature more and more – trimming the edges with square shots or "golden" crops. It's sort of like archetypal movie director in an old film does, narrowing the view between a frame of thumbs and forefingers.
With so much to look at, the narrower field helps reduce the "whelm."
So how should you look at a collector's garden? Maybe a mini botanical garden is like a room in a museum. You wouldn't judge the museum collection by standing back and looking at the whole room. You'd step up to the display cases.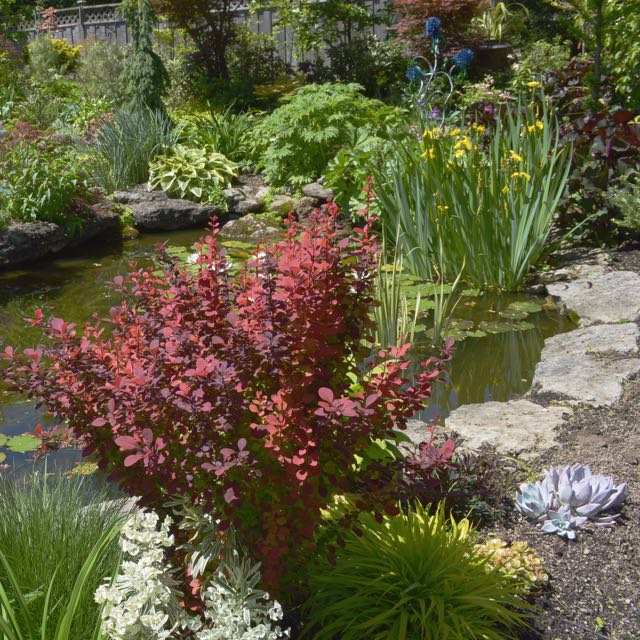 And you'd take a closer look at the specimens. You might even admire how they're arranged.
Sometimes, you might take a step back to look at a single display case.
Or maybe a step or two. But then what? Look at the left of this shot, then look below.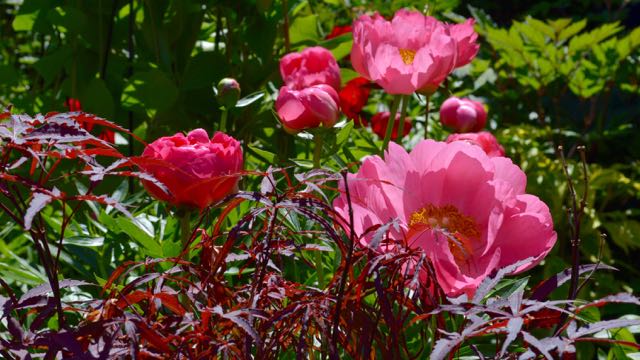 Although a collection is seen as a group of things, it starts with a passion for the individuality of each object. Perhaps a collector's garden is best viewed this way. Rather than looking at the garden and expecting our eye to move across or around it, this type of garden invites our focus to move in and out  – less wide angle, more zoom lens.
A collector doesn't just want a plant to fulfill a design shape, colour or texture. They want to fall in love with it. Specifics matter. When you're lucky, both wants align. What do you think? Does this makes sense to you?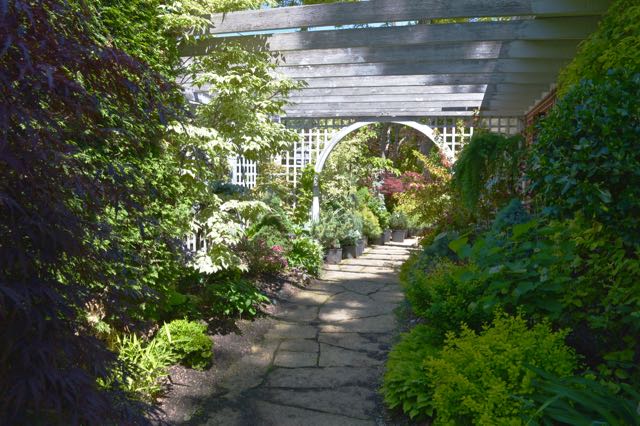 Through the archway, you can see a row of plants still in nursery pots ready to be planted – something a blogger (I wish I could give you proper credit – shout out if it was you) once called "ladies in waiting." I'd love to come back to take a closer look, and under more ideal light conditions. Luckily, I can.
Should we judge a collector's garden by the same criteria as one that's more designerly? Thoughts?