Fellow Toronto Fling organizers Veronica Sliva and Lorraine Flanigan on our scouting mission to Parkwood Estate
With Mr. TG reading Roch Carrier's Montcalm and Wolfe, I'm reminded how little Canadians know (or care) about the history of their own country. That goes for local history, too. How many Torontonians give a second thought to the history of General Motors, with roots a stone's throw away in Oshawa, planted by R.S. (Sam) McLaughlin? (Read his story at that link when you have time. While probably ghost-written in his voice, it's fascinating. A shorter, less colourful, version here.)
McLaughlin became a fabulously well-to-do auto baron. His Parkwood Estate in Oshawa is now a national historic site and a stop on the Via Rail Canada's Garden Route. Parkwood was most welcoming as we planned the Toronto Garden Bloggers Fling, and we were happy to draw attention to this too-little-known garden. It opened my eyes further to the struggles of historic gardens.
And it leads me to think that Canada needs a nationwide charitable organization like America's Garden Conservancy to help preserve gardens like this. Till then, Parkwood funds itself as best it can, in ways such as memberships, donations, sponsorships and special programs like the upcoming Chair Affair garden benefit evening on Sept. 24, 2015. (It's also a popular set for film and TV. You'd be surprised how often.) Come see what we saw – and then think about coming to see for yourself.
One of my favourite bits of Parkwood is actually indoors: trompe l'oeil murals in almost every room, by Canadian artists Frederick Challener and Frederick Haines. Sadly, indoor photos were nixed for us, so I've borrowed from Parkwood's mansion interiors page. There are many more, and I wish Parkwood could capitalize on them as reproductions for their shop. The photo policy must have differed four years ago – this from 2011 on the Design Guy University blog gives a peek at Parkwood's great interiors. (He follows up with a post on Parkwood's gardens, which you might like to peruse. Later!)
A bevvy of bloggers heads for luncheon, generously sponsored by Parkwood and their official caterer Jubilee Group. We'd sent a specific headgear challenge to our Flingers this year. Had I not been hauling around prizes for our draw, awarding tickets, and figuring out where to announce the winners, you might have seen more photos of their prize-worthy results. My sister Sarah, who was Vanna White for the drawing, cleverly cut out her floral adornments from paint chips.
Special mention to Danger Garden's Loree for her Agavenator! (I caught up with her later in Oshawa's Peony Garden.)
We lunched in the Tea House at the far end of the fountain. Remember that this was once someone's back yard – a very wealthy someone. Parkwood is one of Canada's last grand estates, and these days who is wealthy enough to maintain it as it once was? Over its first three decades, the 1910s to 1930s, the gardens were created by the most prominent designers of their time. Parkwood helped lend vintage allure for us by dressing their garden staff as gardeners of the era. In fact, one of their special programs lets you experience the life of a grand estate gardener for a day. (In case that link doesn't stay live, here's my favourite image from the slideshow, with a group of pre-1930 Parkwood staff right out of Downtown Abbey.)
Parkwood arranged a couple of volunteers to roam around in authentic vintage duds for our day. The always-dapper Brian Malcolm (right), Parkwood's executive director, with Oshawa Mayor John Henry (in red), who wore vintage-2015 attire.
This is a throwback from the launch of the 2011 Peony Festival – gorgeous peonies on the other side of that link – allowing me to show the Poseidon fountain, with its spitty Canada geese, and these lovely volunteers. They make it easy to picture the socialites who might have swanned (or Canada goosed?) around the grounds in its heyday.
The Italian Garden, with its beautiful trelliswork, was designed in the 1920s by the husband-wife duo Dunnington-Grubb, founders of Sheridan Nurseries. Apparently, in McLaughlin's time, planters ran along the tops of the trellises to disguise the view of the hospital, which was shorter in those days. Note the Victorian carpet planting in the foreground.
Parkwood arranged interpretive stations for us throughout the grounds, including a demo of how they create the geometric patterns of carpet beds. I'd never paused to think about how it was done before. Planting styles go in and out of fashion, so preservation of an estate like Parkwood means ensuring that such techniques stay alive. Plant selection overall here tends toward older varieties that might have been contemporary with the McLaughlin tenure.
The terrace today. Still with lovely bones, and a favourite spot for wedding photos, but there's an "after the parade passes by" quality here when compared to the image below. Granted, it was early June after a long, cold spring, so freshly planted annuals hadn't had the time or the weather to look their best.
The considerably more lushly planted terrace as the McLaughlins might have seen it. I wonder what those kooky topiaries are? McLaughlin owned racehorses, so perhaps…? But when a stately home no longer has a stately owner, and needs money to keep its electrical panel up to date, frills like topiary might have to wait. We saw the result of one restored greenhouse, and I'm glad to see that Parkwood has received a grant to keep that momentum going.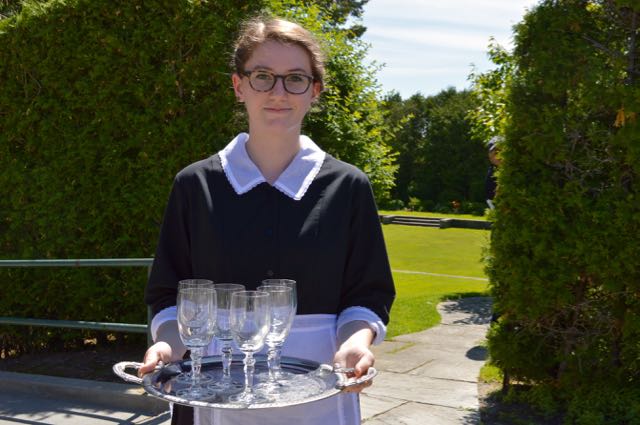 We were grateful to costumed staff with trays of lemonade in the heat of the early afternoon.
And here I am sneaking in a picture of myself, with the poppies in the perennial border from June 2011.
Admission to the gardens at Parkwood Estate is free. There's a small cost for tours of the mansion. Do go inside, and see if it makes you want garden murals on all your walls, like it did me.