The rain brought out the rainbow in this mosaic rug by Clare Dohna – in the garden fittingly called Floramagoria
Who knows at what stage this glorious mosaic came in this Portland garden's planning and design? (A rhetorical question, as garden designer Laura Crockett and owners Craig Quirk and Larry Neill likely know quite well.) I've seen some call the garden's rambunctious planting palette "chaotic," albeit in a complimentary way. To me, they seem lifted from this rainbow right here. Whichever came first, a piece of art can be a liberating source of colour inspiration for a garden. See if you agree.
Okay, scroll back and forth between this picture and the one above. See the similarities?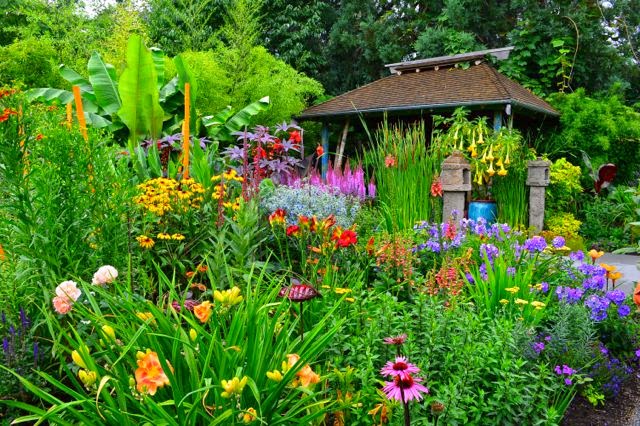 This is an edited colour scheme, but one that touches on all spokes of the colour wheel. A rainbow, indeed.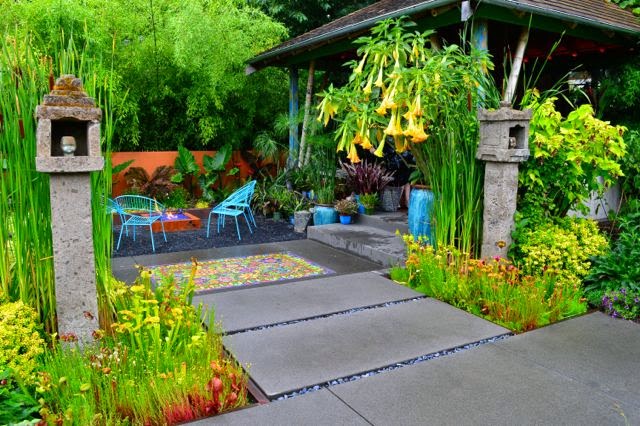 The mosaic rug in situ. Lots of trumpets (big brugs to bogs of carnivores) blast out the colour theme. Bold and beautiful.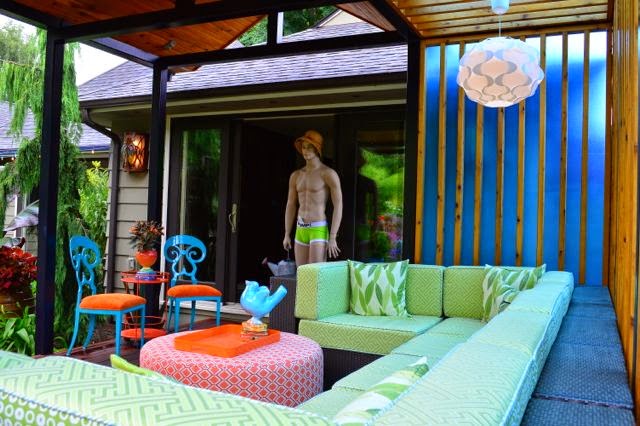 The same colours get a lifestyle spin on the patio. Those banquettes looked fetching, but I was too busy snapping pics to sit, despite the rain. (Luckily, there are no shots of me wearing my oh-so-chic garbage bag.)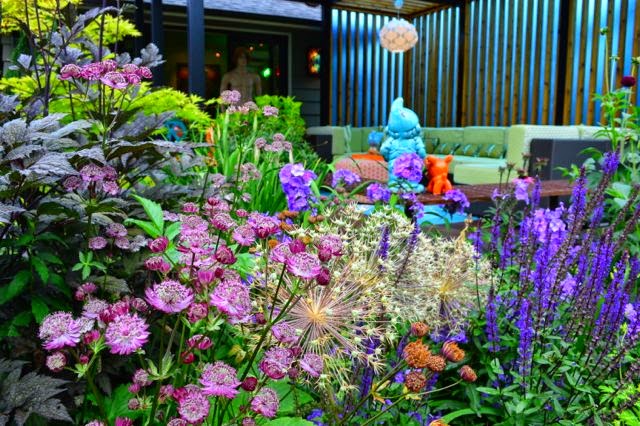 See how consistently the garden and living spaces work together?
And here? Those colour-matched pots and plants are a small stroke of genius.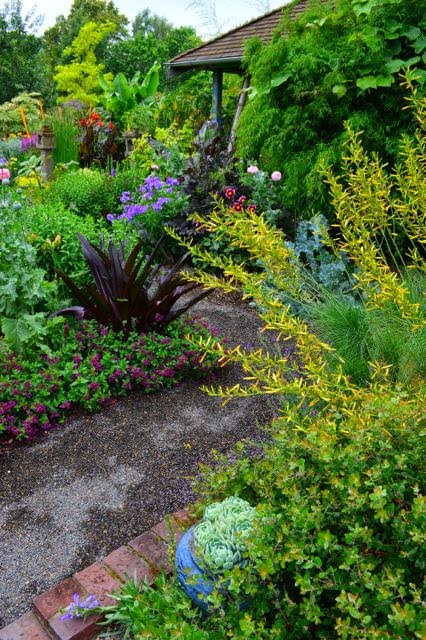 Restrained echoes of the colour scheme appear elsewhere in the garden. Otherwise, it might be too much of a good thing. In fact, the colours gradually intensify as you walk toward the patio from the drive, and one secret corner is a cool haven of green. ("Rainbows" happen there, too, floating from a bubble machine high in the huge sequoia that anchors that space.)
Perhaps you have a favourite piece of art or fabric that could send you in unexpected colour directions when it comes to your garden. Get it! Take a picture, and run it though a colour palette generator such as the one at colr.org. You might find combos that work strange wonders.
I noticed this back in May. One of our mother's colour sketches resurfaced as I was cleaning out a filing cabinet. She'd done it years ago – yet I saw that its colour companion was blooming in my planters at that moment: the 'Prinses Irene' tulips I love so well. Is this the start of something new?
Trust the artist's eye. They might suggest something you'd not considered yet. Will you try it?