My corkscrew hazel (Corylus avellana 'Contorta') in happier times
I'm just awaiting the paperwork. Eastern Filbert Blight has again reared its ugly – uckily ugly – head, as predicted and feared when I wrote about it back in March.
Now I'm waiting for an envelope from Rutgers University containing the import permit that will let me ship samples to the university for their genetic database. December is harvest time for the nasty-looking fungus cankers.
Then it's bye-bye corkscrew hazel – we barely knew ye. At least it's going for a good cause.
That leaves a prominent gap at the front of the garden. And I know just how to fill it.
Hello, Fothergilla gardenii 'Mount Airy'. This dwarf form of the native North American shrub has held a place in my lustful heart for some time. I had been worried it might not get enough moisture in my garden – because, otherwise, this shrub is fairly problem-free with two great seasons of interest (as you'll see below). But I have hope: our neighbour G has had a dwarf fothergilla for some years now. In fact, these pictures are of G's shrub – soon to have a friend down the street. Fingers crossed.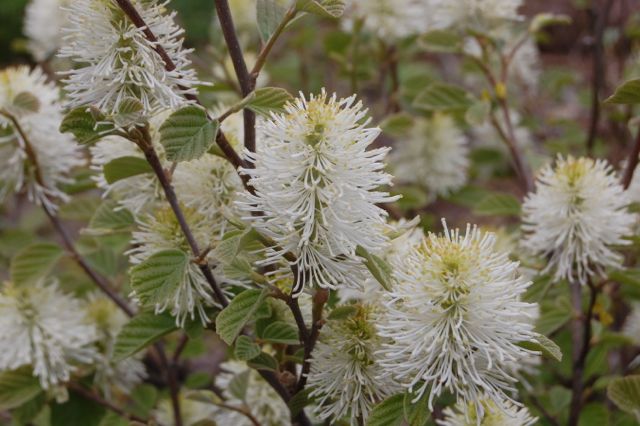 In May, Fothergilla sports these unusual, bottle-brush flowers, with a fragrance I've heard described as vanilla or licorice.
In fall (this was taken today, in fact), the foliage on this compact shrub turns gold, orange and red. Yes, yes, I want.