I'm new to this "tradition" (if the term applies to something so young) initiated by Indiana blogger Carol of May Dreams Gardens. On the 15th of every month, she asks all bloggers to show what's growing in their gardens. Here's what's happening in (and around) my Zone 6 Toronto garden, starting with the top picture, the spidery mature look of my 'West Point' tulips.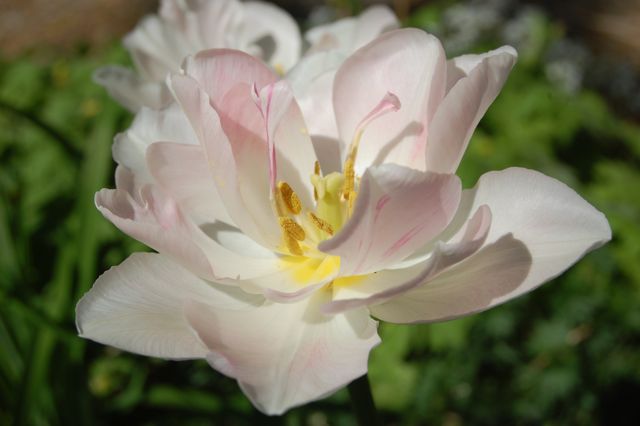 The 'Angelique' tulips have been open for a few days. I had half a dozen of these originally. It's interesting to see that the squirrels have planted some of them in gardens down the street.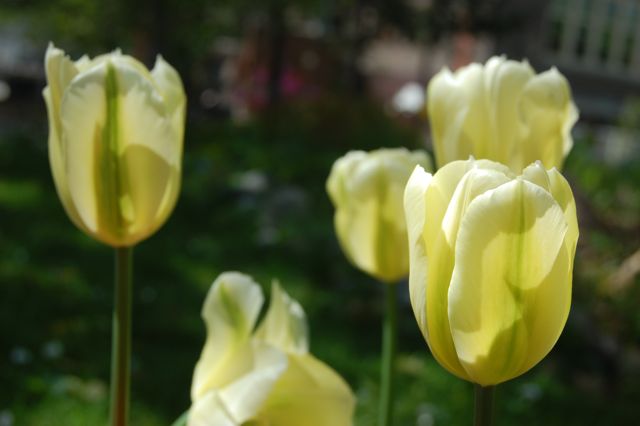 These white Tulipa viridiflora are in my neighbour M's garden. But since he and I (well, mostly he) removed the privet hedge dividing our two front lawns, the garden lines have blurred and we share the tending of one big front garden. The 'viridiflora' are named for the green striping in the flower, and come in other colours. He put these with deep red peony-flowered tulips. Nice.
Lathyrus vernus or vernal sweet pea is on the wane. This excellent performer should be planted more often. It grows about a foot tall in my dry garden, and for at least a month is covered in blooms that gradually change colour as they age. The bees love it.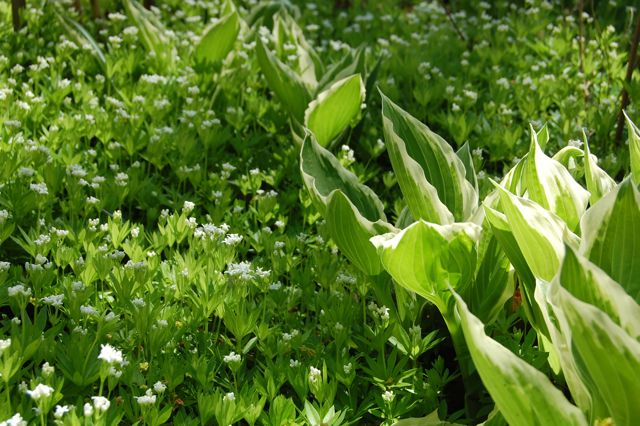 Galium odorata or sweet woodruff gets its starry white flowers now above its whorled leaves. You can see, it's a, what shall we call it, enthusiastic? groundcover. In a wetter position, it might be called invasive, but it's relatively welcome in dry shade. This little plant has a long and interesting history, which you can read about at Paghat's Garden.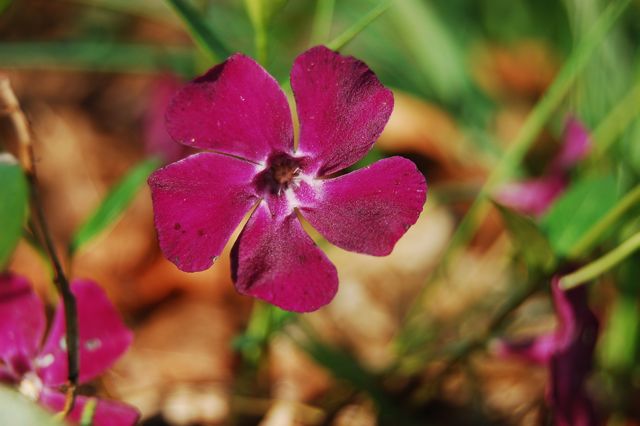 This purple form of periwinkle, Vinca minor 'Atropurpurea' was planted only a couple of years ago, and it's doing very well. It's in the sunnier area at the front, and is blooming along with the sulphur yellow Euphorbia polychroma or cushion spurge. Beside them, my old purple intermediate bearded iris is in bud and readying to pop over the next week. This iris came with the house, and I've spread it in a neighbourly way up and down the street.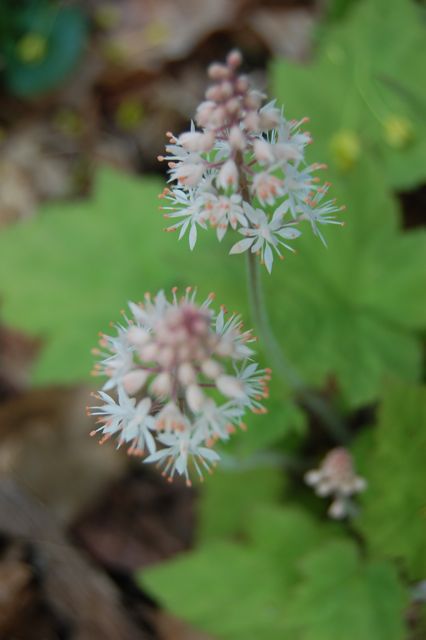 A number of natives are also pushing up blooms. Tiarella cordifolia or foamflower is one of the dainty, low-growing flowers that I wouldn't want the sweet woodruff to get too close to. I've seen foamflower planted in masses very effectively elsewhere. In my garden, it's more like a "light froth" flower. But it always delights me to see it in bloom.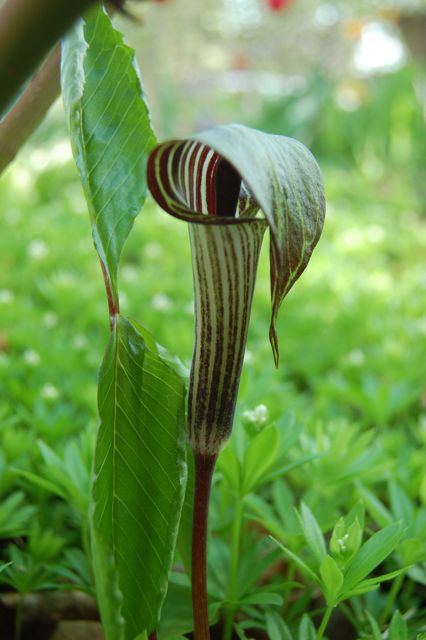 This is one whose height allows it to compete a bit better, the Jack-in-the-pulpit or Arisaema triphylla [oops, I mean, triphyllum]. Again, it belongs to M, but is right at our property lines. M has this striped one, and a greenish white one, both having been in bloom for a couple of weeks.
And here's an old reliable in Sarah's garden, Aquilegia canadensis, the native columbine. It's blooming here in the hellstrip between her sidewalk and the next — under Norway maples and in shade. Delicate, but tough. That's the way we like 'em.
Happy blooms day!