You never know where you'll find garden inspiration – perhaps on holiday in Reykjavik, Iceland.
After a day of seeking out and being rather disappointed by the Reykjavik Botanical Garden, we headed to Reykjavik City Hall to look at the 3D map of Iceland.
Almost by accident, we exited via the not-so-obvious front door, and were astounded by what we found: A water-fed wall of moss stretching from one extreme of the site to the other; a rich tapestry of greens.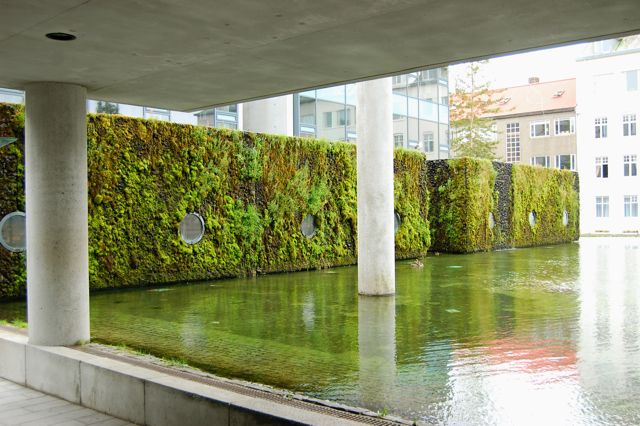 The wall itself is constructed of porous volcanic rock. That makes sense for Iceland, but isn't something most of us can whip up on a whim. The rectangular wall is broken by a fissure in the long two-thirds, and punctuated by porthole windows (doubtless, reflecting Iceland's maritime heritage).
It all reflects in a large pond, where ducklings dropped by to visit while we were there. The green wall softens City Hall's a modern structure of glass and concrete. Pillars on the other side of the building dip their feet into Lake Tjörnin, Icelandic for "the pond."
Mosses are the mainstay of this living wall. Amongst them, grasses and other greenery are finding footholds.
Strangely, I can't find much background (in English, anyway) on this wall. It's as if it's taken for granted. I'll do some more research when I return to Toronto – and internet is more reliable. Till then, enjoy this product of visionary civic minds. I did.
This post might qualify for Veg Plotting's Out on the Streets meme, which asks us to find garden inspiration in public spaces. Head over there to see what's inspiring people this August 2010.