A rusty orb on stilts contrasts the spiky mullein; Dragonfly Farms, Bainbridge Island, Washington
The colour of rust sits comfortably in the natural environment – like green's complement red, blended with dabs of earth and bark. As with the orb above, even a smooth surface weathers into delicious textural variations. Rust hints of history and age, so that adding a rusty bit helps a new garden feel established. If you squint, you can see some poetry about decay and the cycle of life. Can't you?
Corten Steel – the corrosion-resistant metal – is the rusty sheeting you've probably seen in gardens lately, as planters or edging. We hope you'll find this other rusty stuff we've admired inspiring.
Tell us what you think afterwards: Rust, or bust?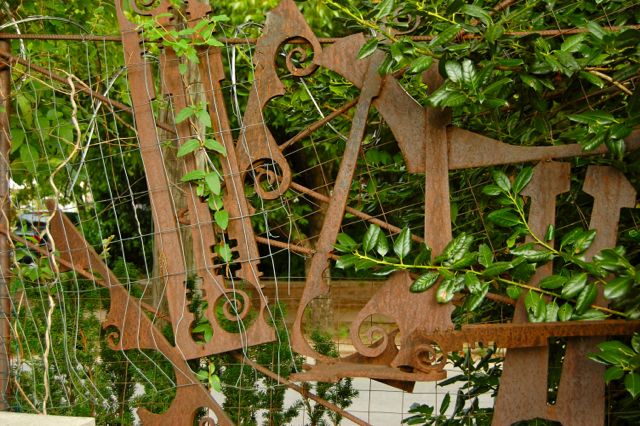 Rusty off-cuts turn a fence into artwork in Robert Bellamy's Dallas garden. See more of this artful space here.
We showed glimpses of Ricki Pierce's amazing cog railing in our post on Wamboldtopia. Here's a fuller view.
Rather adorable nest by Bob Wahr (get it? barb wire?) Creations of Poulsbo, Washington
Rusty stuff doesn't have to be funky. This rather elegant gate is from the Seattle garden of Jim and Suzette Birrell.
Rusty on a shoestring: This rust-touched vintage planter in a Toronto garden lends shabby chic to a rusty-flowered Clivia