Sometimes the things you find by accident are the best finds of all. Before the Minneapolis Fling began, my roommate Joanne Shaw (of Down2Earth) and I stumbled on this plaza when exploring the city while waiting for our room.
Wow, I thought, that looks like something by Martha Schwartz. Well, guess what? It is something by Martha Schwartz.
The Federal Courthouse is a modernist building by Kohn Pedersen Fox, the architects who designed the makeover of New York's MoMa. It's across the street from the red sandstone edifice of Minneapolis City Hall, looking like our Old City Hall on steroids. But all the press seems to go to the courtyard. No wonder. It sure captured the attention of this pair of visitors.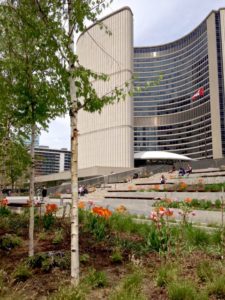 Now I do like our green roof at Toronto's New City Hall (and we wrote about it here). And I approve of the remake of the Peace Garden at Nathan Phillips Square, shown at left in spring 2016.
In plain fact, Toronto's municipal plaza is probably more useful for its citizens than the Schwartz Partners design. And, from the emptiness of the Minneapolis courthouse plaza at lunchtime, when I took this shot, Toronto's is perhaps more used.
But that doesn't stop me from longing for something bigger and bolder for our city. Have a look. (Click on any picture of the Courthouse for a full-size slideshow.)
By the way, Martha Schwartz Partners were behind the design of Yorkville Park in Toronto, and the plaza's adorable sculptures by Tom Otterness have another Toronto connection, the sculpture Immigrant Family at 18 Yonge Street.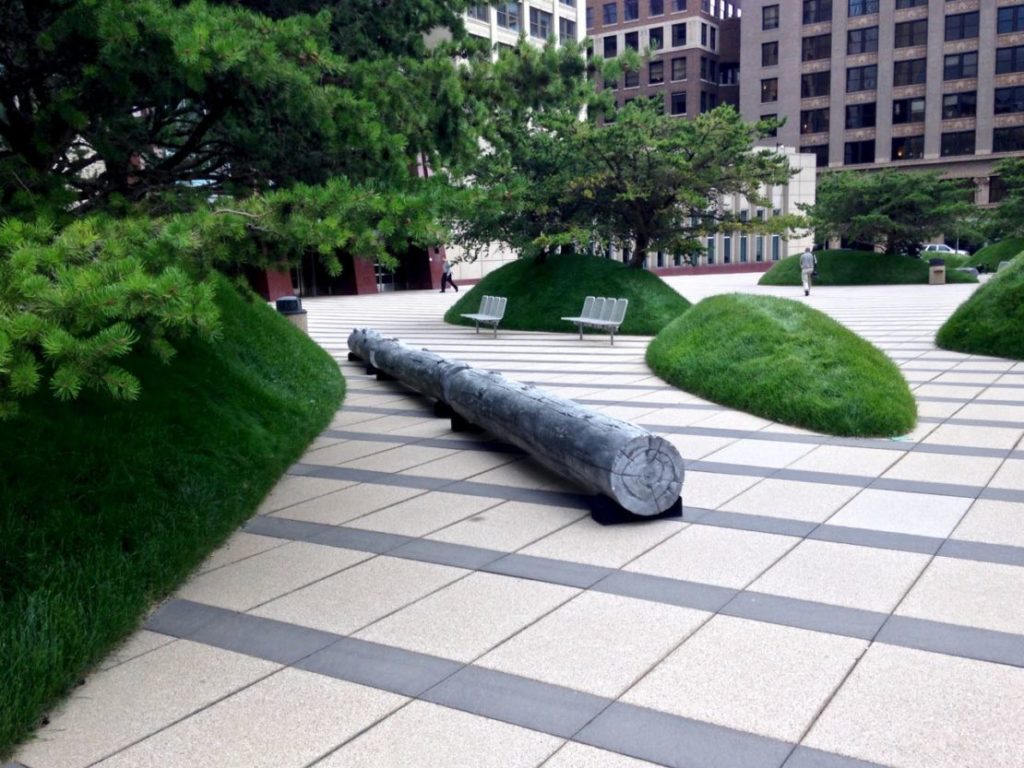 For another write-up on the plaza, see this informative post on Landscape Voice by InHabitat editor Lucy Wang.