Getting to know many bloggers in California has introduced me to the concept of lawn controversy: the fact that there is a strong and vocal movement against having lawns altogether.
One of my first posts about lawns here got a heated comment from Twitter friend and California blogger Billy Goodnick. He described it as unleashing both barrels, as I recall, and he certainly got his point across.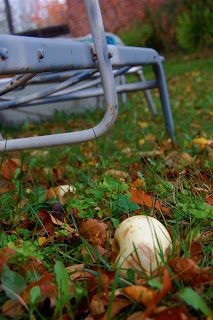 It makes sense that in severely water-challenged California, a strict dependence on lawns in the landscape is generally not a good thing. When I visited California in the 60s, I recall that among the things that impressed me was the lack of grass lawns. They were growing some other stuff that stayed low and flat. Not sure what it was. Maybe it's considered just as bad as grass now.
For myself, here in Ontario, where rainfall is generally predictable through the growing season, I have to admit that I love the soothing, greening presence of a lawn, especially late in the day when the sun is low and the green positively glows.
The lawn outside my country house is dappled with sun and shade in the late afternoon and early evening; seeing a robin hop about on it is one of my garden delights.
My definition of Lawn is not the traditional one, however. It's not made solely of grass, it's a mixed groundcover. It isn't watered or chemically fertilized, and it's created mostly of plants that simply grew there themselves.
Perhaps a long time ago someone sowed some lawn seed. The building is a former one-room schoolhouse, and the land around it was the playground. Today, the lawn is a mix of grass, wild strawberries, white clover, dandelions, plantain, creeping charlie, devil's paintbrush, moss, viper's bugloss, daisies and other wildflowers. It's my kind of lawn: a healthy, mown meadow.

It Ain't a Lawn, It's a Meadow
The more species you have in your groundcover or meadow, the healthier it is: clover adds nitrogen, withstands drought and stays green longer than grass. Its flowers provide a sea of pollinator opportunities. Wild strawberries and dandelions (apart from attracting pollinators) are dynamic accumulators, bringing nutrients from the subsoil to the topsoil.
My advice to anyone who still wants to have a lawn: Forget a monoculture, made only of grasses, and invite other plants to make up your groundcover. Start with white clover, and re-seed bare patches with that. Embrace your dandelions! They offer the earliest source of nectar in the spring for our disappearing pollinators.
The lawn that I do have in the country is disappearing fairly regularly as I increase my flower and shrub beds. However, I will always have some form of lawn on my property. Mowing the meadows is a necessity in order to stop the creeping growth of shrubs I battle, like the sumach and lilac which would colonize every square inch of space if I let them.
About Watering
I wouldn't dream of watering my lawn, even if my well had enough water to do so. (It doesn't.) Lawns are capable of surviving drought in our climate.
In August, when lawns get crunchy from the heat and lack of water, they are still alive: just dormant. It's important for lawn-owners to accept this dormant period as normal. A yellow lawn doesn't mean a dead lawn. Don't water! Simply wait for the September rains to green them up again.

The Meadow-ing of City Parks
I'm very happy that the parks department in Toronto long ago stopped the practice of using herbicides and fertilizers in the parks and roadsides. We were marvelling at the masses of fragrant clover in bloom yesterday in the park adjacent to my community garden in East York. Bees were having a field day.
Even with all this praise of meadows, there are places and spaces where lawns are just the wrong thing to do: California and other drought-stricken climes seem to be those places, and I salute the landscapers and gardeners who are doing their part there to De-Lawnify the place.
Check out Billy Goodnick and gang in their music video,"Takin'Out the Grass." Billy's the one juggling the sod. (warning: you won't be able to get this tune out of your head for a while!)