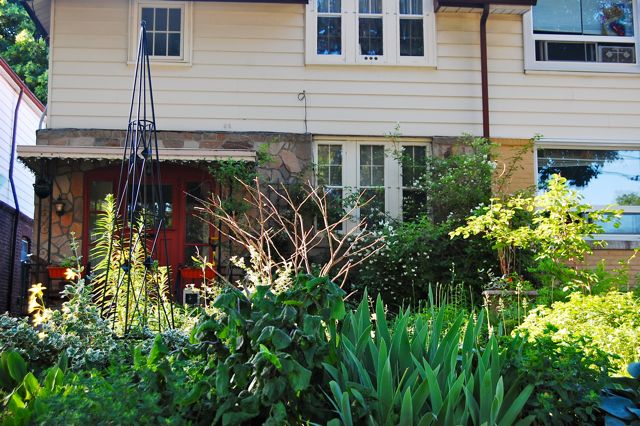 Hello. My name is Helen, and I am a plantoholic. Most recreational gardeners are. Even the best of us, those who never set foot in a nursery without a shopping list, often start with a wish list. Of plants.
We're easily revved into a frenzy of plant lust by magazine, blog and catalog descriptions of new varieties, new colours, new flower forms. We can't resist a few (or few dozen) impulse buys. Then, we return to the garden with our booty and ask the eternal question: Where the heck do I put this?
What would happen if people in other fields (if you will) had "our little problem?" If an architect fell in love with a bunch of bricks. (Oooh, cool. I'm sure I could fit in a few!). Or an engineer bought girders on impulse (Oh, look, new colours!), or a plumber came home with unusual taps (I couldn't help it; I've never seen that form before!). Wouldn't happen. She wouldn't work backwards from assorted materials, without knowing whether they were right for her project. Neither should we.
After only two sessions, the Ryerson Art and Management of Planting Design course I'm taking is leading me to a different path. I'm trying to un-install the T in my favourite word, and move from plants to PLANS.
Imagine how mushy the texture would be without that one blue hosta, H. 'Tokudama'. We want more effects like that.
The plans will focus on a front garden that after many years of evolution has become scruffy. There are too many plants of the same texture and foliage colour, haphazard blooming times, underperforming specimens and a tiny patch of grass that always looks unkempt. Not to mention, the branches of a dead burning bush that I've kept, thinking I would paint… but never have. As my "face to the world," it's all a bit of an embarrassment.
My first step will be to make a list – and you can guess that I don't mean a plant list. This is a list of criteria for my garden or problems to be solved, in no particular order… yet (we're brainstorming here):
– an easy-to-maintain front garden with greater impact
– a way to disguise the air-conditioning unit
– less (or no) grass to mow
– solution for the too-steep slope and too-narrow driveway
– more variety in foliage texture
– more multi-season interest, especially winter
– entrance too congested; how to fix?
– succession plan for aging street trees
– counteract "flyer guy disease" – plants being trampled by the guys who hand out flyers
The list will be longer, and I'll be looking for patterns. Some things, like my too-narrow driveway, might require more than my current budget allows, but for now let's keep it on the list.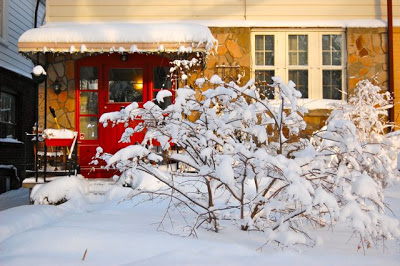 My burning bush in happier times. No, we have absolutely no snow now in Toronto. This was December 2008.
To borrow a creative concept from my working life, innovative solutions often come if you define a problem by asking a question, such as How do I reduce congestion at the entrance? rather than stating some kind of solution, such as Widen front pathway. Turning these points into questions will allow me to open my mind to possible alternatives… and you never know what might work better.
I'll be treating myself like a client as I go through this planning process. More reports as I go.