In 2020-21, who didn't miss seeing friends and extended family, or dream of being able to celebrate with them again? Because outdoors is the safest place for that, given the pandemic, garden renovations boomed. Prices for building materials shot into the stratosphere, if you could find any, or find someone to build things for you.
Our solution was to do it ourselves. That stretched out the process due to a minimal crew of those in our bubble but it also minimized expenses. Many of the materials we used were salvaged or repurposed from our old paving, garden shed, and deck, along with some creative design solutions and lucky buys.
This first in a series of stories of our six-month garden transformation begins with befores and afters.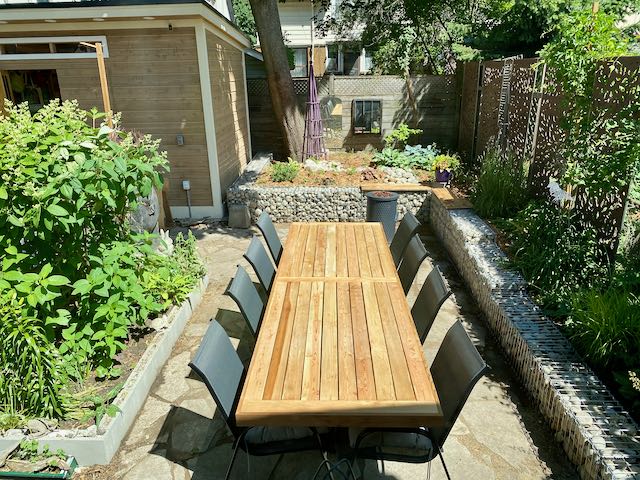 We loved our old garden and spent many happy times there. But our garden shed was being nudged over by the Norway maple that had planted itself behind it, and our small table for five no longer suited our grown-up and partnered-up family. We needed to rethink and reinvent it all.
Moving and building a new garden shed – a great story, which I'll share separately – was the starting point for the whole process. Our old cedar shed, built by my guy with a kit from Beaver Lumber (to show how long ago that was), found itself reborn in a number of surprising ways.
For example, my brilliant Mr. TG transformed the salvaged, 30-year-old cedar from the shed into that amazing, long dining table above. Its construction deserves (and will get) a story of its own.
Notice the orange lilies are still in their same position. We tried to disturb existing plantings as little as possible, although some areas, such as the larger bed hugging the round table, had to be moved.
Gabion baskets filled with river stones replaced the disintegrating stacked crazy paving as edging, and the height of the new bed in the back where the old shed used to be was possible because the base of the maple tree was already elevated, and we could preserve the trunk flare. More on that story later, too.
Since the lockdown has eased we've had time to put our new garden to work doing exactly what we wanted it to do: celebrate with (fully vaccinated) family and friends. It has been a journey! But the destination was worth every bit of renovation chaos and, despite our scrimping, a certain amount of expense.
The stories that follow will share some of our ideas and experiences in the hope that others will find them useful.
Have some ideas you'd like to share, too? We welcome your comments.