Any beginning gardener would happy to find either – or both – these books under the giving tree. But you don't have to be a beginner to appreciate them. In the spirit of "the more you know, the more you know you don't know," this experienced gardener filled many gaps in her knowledge in reading them.
For example, in the recently released Starting & Saving Seeds: Grow the perfect vegetables, fruits, herbs, and flowers for your garden, Julie Thompson-Adolf gives a thorough explanation of the importance of fermenting seeds you harvest. Fermenting? What planet was I on when this topic was discussed? I am now an enlightened gardener.
As you can see above, the first third of the book covers general how-tos while the rest is devoted to detailed plant-by-plant play-by-plays. Tomatoes, everyone's favourite fregetable (the vegetable that's really a fruit), gets a big section of its own. Sidebar features, like one on selecting the best tomatoes for your climate, are sprinkled throughout the book.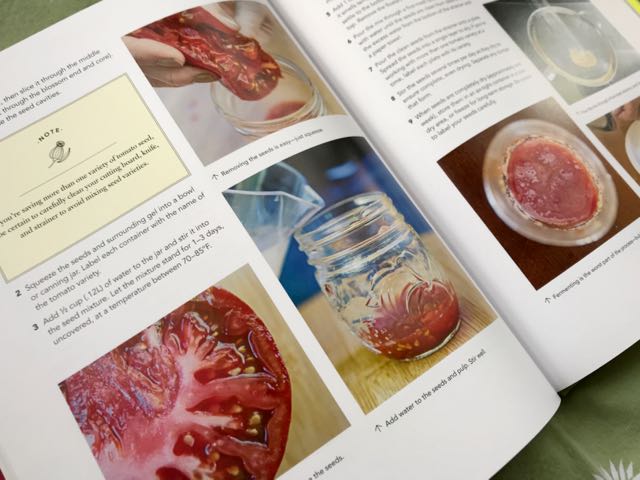 The author's knowledge shows on every page, and so does her know-how about writing clear, easy-to-follow instructions and explanations. Beyond the basics, you'll find projects like making DIY seed tape or instructions for winter-sowing. For a 160-page book, it's quite comprehensive.
One thing cold-climate gardeners will appreciate is that this South Carolina garden writer didn't forget us. All but a scant few of the plants covered are suitable for gardens in Toronto (Canadian Zone 6/USDA Zone 5) and most of Canada's gardens – and even those few might be fun to try for a year, or to baby indoors over winter. The Resources section even lists Canadian seed suppliers. Huzzah! I wish American authors would do this more often.
My go-to reference for composting has always been my 1992 edition of The Rodale Book of Composting: Easy methods for every gardener. But Michelle Balz's Composting for a New Generation: Latest techniques for the bin and beyond is a worthy successor or complement for anyone interested in turning garden and kitchen waste into black gold for the garden.
For one thing, it does cover techniques like bokashi that weren't on the radar in 1992. And for another, it's jam-packed with explanatory photos.
In this info-graphic dense world, I think the older "wall of grey type" way of book design isn't as palatable. The author and graphic designer here understand how we now like to read and absorb information.
Would-be and even experienced composters can discover all about the science and practise of composting. And I can't even count the number of step-by-step instructions for building your own devices or composting methods like hugelkultur beds or African keyhole gardens.
Both Starting & Saving Seeds and Composting for a New Generation are published by Cool Springs Press. In case Santa wants to know.