The Hidden Gardens of Cabbagetown is one of my favourite Toronto neighbourhood garden tours. Partly, it's because Cabbagetown, a cornucopia of shady lanes and diverse Victorian architecture, is one of my favourite Toronto nabes.
This year, after a morning accosting people to talk about plants volunteering as a Master Gardener in one charming garden, I had time to explore others on the tour – including this small, standout, contemporary garden. Designed in 2013 by Terry McGlade (come back to this link to read about the making of the garden), it's a testament to the strength of simple garden design and good bone structure five years later.
The container on the left first grabbed my eye as I waited for my turn through the garden gate. The bold red with green and black, repeated in the next planter over, were real attention-getters.
Then I saw the tree, reaching across the garden with its backdrop of charcoal grey and the green carpet below. Wow.
The garden is so small, it's difficult to stand back far enough for the camera to capture it all. It's forced to move around, look up, look down, look all around. That's a lesson for the human eye as well – to make a small garden seem bigger, keep the eye moving.
Narrow, horizontal painted wood fencing draws your eye along the garden's longest lines, creating a sense of linear space. Then the skinny columnar copper beech trees (Fagus sylvatica – possibly 'Dawyck Purple') pull the same trick on another plane by pointing the eye upward.
The bed in the shot below, left, is at the top of the steps to the deck. A clever idea, it brings the garden to the upper level while the bringing the tree closer to available sunlight in the shady courtyard.
To put the size in perspective, the tree planters above, right, are just to the left of the path in the shot below. And you can glimpse the Japanese maple next door that becomes a "borrowed plant" to extend the garden picture, especially when seen from the deck.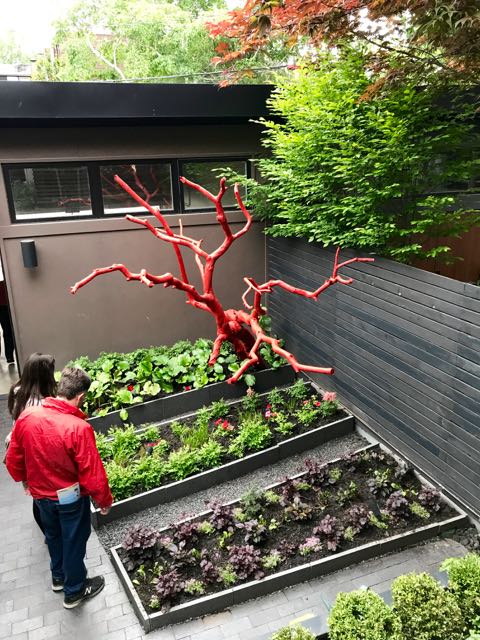 This is now a "biennial tour" according to the 2018 program. That must mean we'll need to wait for 2020 for our next chance. All proceeds go to the Cabbagetown Preservation Association, so check the CPA website for the latest details.
Have you been on the Cabbagetown tour before? What did you think of it?