Good news. If you're suffering from cabin fever during the first 2018 polar vortex, the Allan Gardens Christmas Show is on till January 7th. It's a fun way to beat the chills, and it's free.
One of the cool things about this year's show is the creative use of materials. When you go, have a good look at the peacock's throat, for example. And how about the "fluffy" spikes in the tree below?
The urn in the cool house is often a centrepiece for the show theme. This year, with materials like pinecones, bits of bark (sustainably harvested, I imagine), lichen and moss, it hints at the much bigger piece at the far end of the central bed. As my photos don't do it justice, you "moose" go see for yourself.
And, seeing the trees below, we should start collecting oak leaves and red dogwood twigs next fall. Agreed?
Collecting ideas for creative materials is just one reason to visit this year's show. You don't have to celebrate Christmas to enjoy it. I fall more on the pagan side of this midwinter celebration, myself.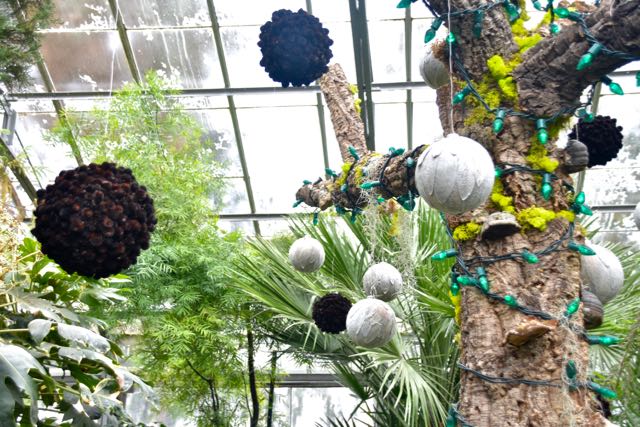 Amidst the expected poinsettias (Euphorbia pulcherrima) and amaryllis (Hippeastrum), the tropical house is particularly fun, especially for young visitors. Those winding paths have magic in them.
The water wheel is always a focal point. I've loved its familiar slap, slap, slap since my sister Sarah and I used to come to Allan Gardens with our dad. Coincidentally, today would have been his 91st birthday. On this visit, people of every age were leaning over the bridge to watch the turtles. Water (that isn't frozen) and wildlife are so appealing, especially in winter.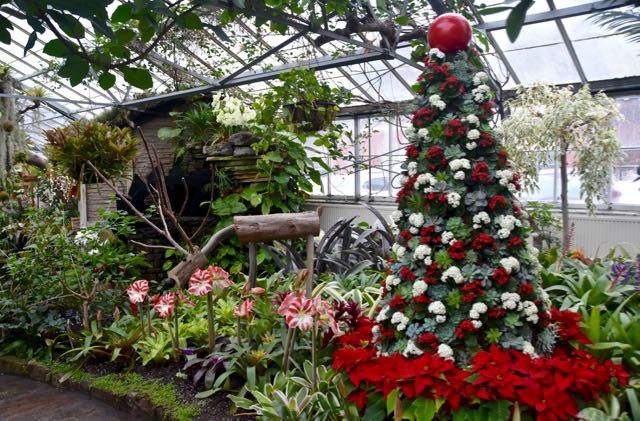 One of these days, I'll ask the designers and staff how long they spend creating these shows. As a former Simpsons (who?) special events coordinator, I remember that the department store's display department began to design next year's Christmas windows almost the moment the current year's windows went in.
Keep looking: left, right, up, down. You'll find clever ideas in all directions.
Let us know if you go – and tell us what you think. Do you have a favourite find?