Our guests were almost here for our first new-tradition of Thanksgiving brunch on Monday. Then I noticed the beautiful arrangement my Number One Dot had gifted me for my Big Birthday. Oops. It really needed retiring.
Once the flowers were pulled from the vase, though, it was clear that some were up for a second round. The blue sea holly (Eryngium) still looked pretty perky, a sprig of claret-coloured Hydrangea had dried with its colour intact, and the cascading love-lies-bleeding (Amaranthus) can get away with looking a little droopy. There on the counter was a container I'd rescued from holding the scrubber by my kitchen sink. So I popped the survivors in.
The vase was actually a birthday gift from two friends way back in our university days. It deserved to attend our Thanksgiving feast. So, with company due in minutes, I rushed out to complement it and flesh out the arrangement with whatever I could rustle up. This is the result.
I've decided to call this process "revasing." Like recycling, with more flower power.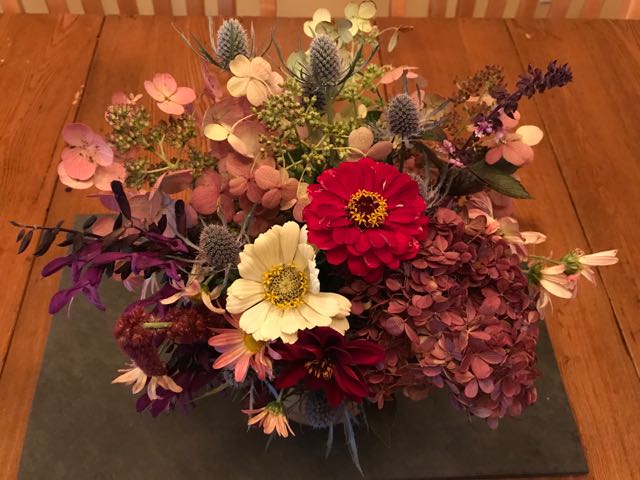 Of secondary interest to me is how the flower colours change when seen under artificial light indoors. This is probably good to keep in mind when selecting flowers for arrangements. Do you agree?
This "created on Monday, posted on Thursday'" vase is a late contender for Cathy's In a Vase on Mondays meme over on Rambling in the Garden. Hop over and be inspired.