The trouble with digital cameras is that they can do everything for you except point and shoot. It's almost too easy. But, hey, it's never too late to climb out of that comfort zone. That's why my friend E convinced me to join her at an advanced photography course offered by Parks and Rec. Our first challenge: going fully manual.
Where better to practice on a rainy day but Allan Gardens Conservatory? And, gloriosky, we accidentally found ourselves right in the middle of the annual Chrysanthemum Show! You should get yourselves there, camera or no camera – it's on till Nov. 5th, 2017.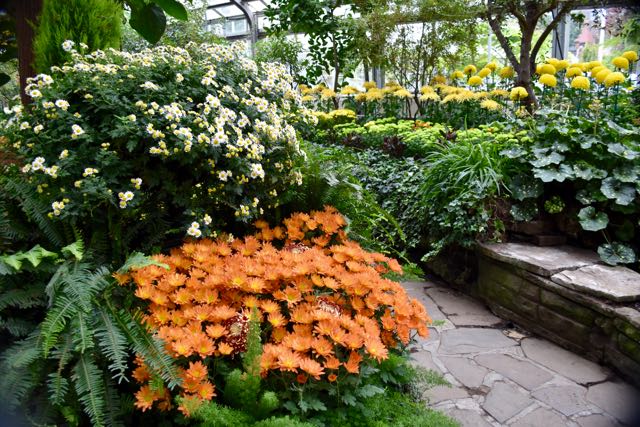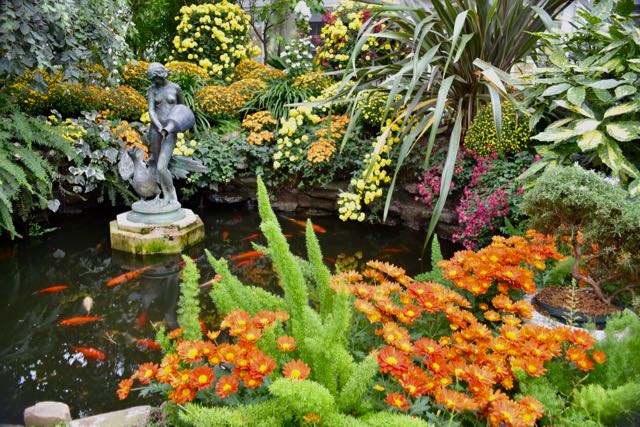 Trying to work individual controls for shutter speed, aperture and ISO while thinking about composition is the manual version of asking a centipede how it walks with all those legs. Lots of fumbling, as we tried to deal with the overcast day and glass dome, with areas of brightness and shadow. It was fun.
I'm not a fan of the formality of chrysanthemums for my own garden. The only one I grow, our so-called 'Mrs. Begley', is a single daisy-type, with a tendency to sprawl. But I have to admire the diverse sculptural forms of these mums. They make fascinating photo subjects. Click any image to see a sharper slideshow.
My ongoing photography challenge is to avoid including people in my garden shots. At a show like this, it means sidestepping the crowds. But from time to time you do see people who will add context and interest – like my hastily snapped bridal couple below.
Of course, there's always something to see – and, occasionally, smell – at Allan Gardens. The Brugmansia (left, below) had me hanging by my nostrils, inhaling their perfume.