Sometimes, I feel bad about filtering the experience of being in a garden through a camera lens. Am I like one of those people who walk around seeing the whole world through the screen of their iPads? But the magic of photography can turn a frantic, 45-minute garden visit into hours of contemplation at home – letting me zoom in, identify hidden treasures, and take time to think. While the garden of Washington D.C. landscape designer Scott Brinitzer was structurally cool, what my photos make me think about now is the dark side of foliage.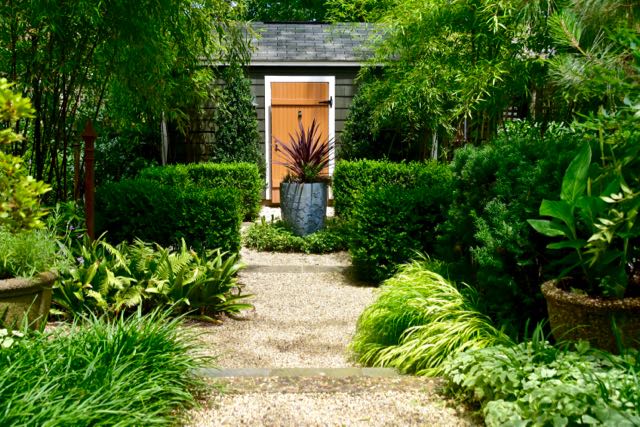 Yes, the bone structure of Brinitzer's garden is the first thing that impresses you. His plan frames the space with two long paths that meet at an axis marked by that blue pot you might have noticed in an earlier post. In the pot is a single spiky, purple plant, most likely a cultivar of Phormium tenax or New Zealand flax. [Ed: Okay, based on comments from those-in-the-know, read Cordyline whenever I say Phormium/NZ flax.]
In the long view, plant and pot are nicely silhouetted against the door of the shed, painted a shade of ochre I'd have to call "pumpkin pie." Love the knocker. Note the colour: black. And what is ochre? It's a colour ranging from yellow through orange and brown. Remember those colours: black and brown. You'll see them again.
In fact, the botanical world has no true black. Some colours come close, like the stems or culms of the black bamboo arching at each corner of that axis. Most botanical blacks are a dark purple or red. That's why there's subtle affinity here with the Phormium. Only on inspection do you notice the colour of the bamboo. But as the darkest point in this textured composition of greens and golds, the NZ flax instantly grabs your focus.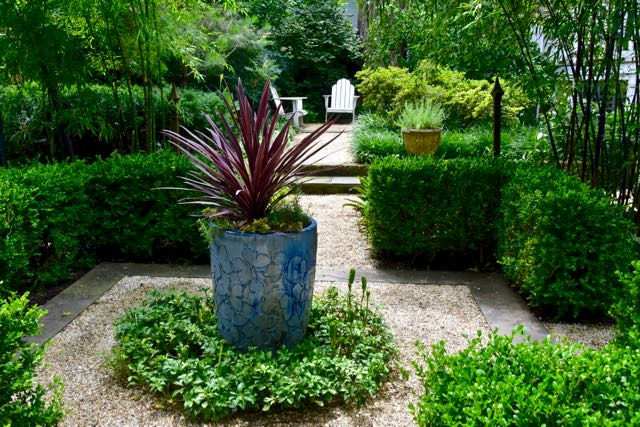 Then you look to the right. And another locus of colour draws your attention. At first, you see the brown.
It's the soft, wispy texture of brown sedge (Carex – there are various species and cultivars). It drags you down the pea-gravel path (more brown) to a dark slate patio (charcoal, but let's call it black) for a better look. Now, you can see the groupings, with potted shrubs reaching towards each other on either side of a lion's-head fountain – dark foliage on the left, greens and golds on the right. (Click any image to see the slideshow.)
In an ideal world, I'd be sitting in that black basket chair enjoying the view – with a refreshing beverage.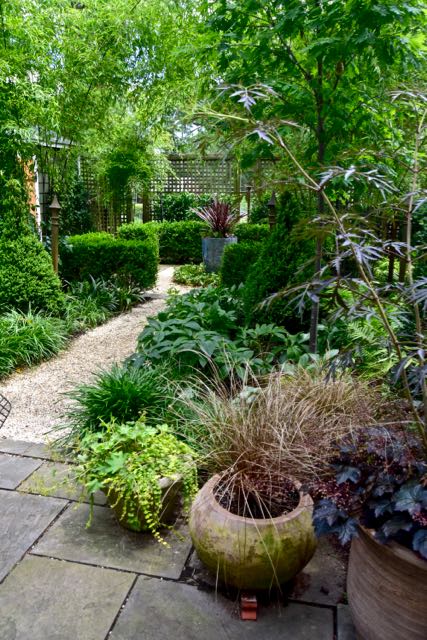 You have to be careful with black foliage – it works best in full sun, but in a too-shady spot can create visual holes. I like the counter-balancing sparks of white in this garden, such as those white chairs against the dark hedge a few pictures back, and the pearly surfaces of the black leaves in both plants below. Take a closer gander at this pairing of black on black. To me, it looks rich with an almost rococo texture. What do you think?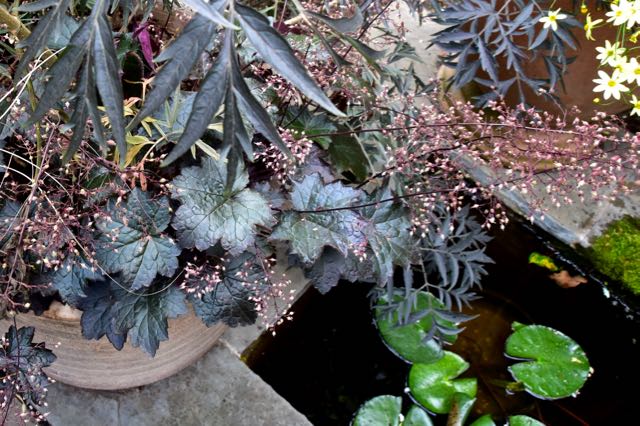 It took two circuits around this garden to take it all in on our visit during the Capital Region Fling, and much longer poring over and selecting images for this post to understand what I'd seen. Good gardens do that.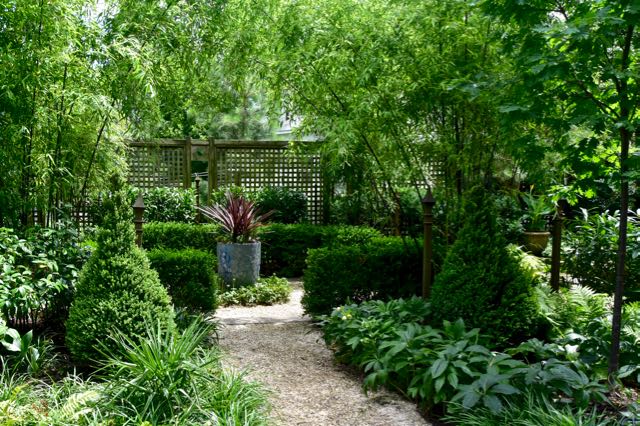 There's so much to learn. That's what I love about the great big world of botany, horticulture and garden design. For example, the picture below, chosen because it showed a brown foliage plant, sent me scurrying to identify it when I got home. Was it a fern? An evergreen? As I zoomed with my photo app, its leaf structure looked familiar. But could it be…? Do you know what it is? Give it a guess before you read the caption (don't cheat by clicking this.)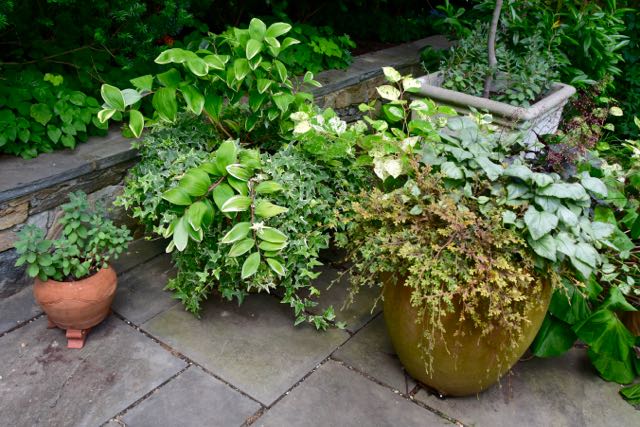 Did you guess the plant ID? And how have you used dark foliage in your garden?