Well, we're chuffed. The Association for Garden Communicators (aka GWA) announced their 2017 Silver Medal Media Awards last week while I was out of town, and Toronto Gardens made the list. Twice! One Silver Medal for Overall Blog, a nice thumbs-up for our blog redesign, and one for Overall Writing on the blog.
Silver Medals are awarded in different categories, and winners qualify to win Gold at the annual conference in Buffalo this August. In the garden communicator world, winning GWA Silver is a bit like being nominated for an Oscar – except there might not be a Gold awarded in every category.
There's competition for those Golds, believe me.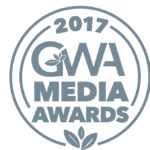 On the plus side, many 2017 Silver Medallists are Canadian. These include fellow Toronto Master Gardener Anna Leggatt (Writing, Newsletters); Stephanie Rose for Garden Therapy, Tony Spencer for The New Perennialist, and Niki Jabbour and Tara Nolan who are half of the creative team behind Savvy Gardening, all competing with us (Overall Blog) – and, dang them, they're all good. Silvers (Individual Website) also go to Janet Davis for The Paintbox Garden, and Susan Poizner for Orchard People. Susan also won in the Podcast Series category. Discover them, if you haven't yet.
Do we have hopes for a Gold? We wouldn't be human if we said no. But looking at our distinguished company, the best approach is probably to cultivate a Zen attitude: fully appreciate the Silver-lined present!
[UPDATE: Here's what happened. Happy Helen after awards night.]