The garden is about every passage of life. Youth, adolescence, old age. Even death. ~ Princess Peggy Abkhazi
Today's weather has chilled, but the sudden heat of the past two days put a definite frizzle in my long display of tulips. Before the forecast wind and rain (that never came), I went out last night to deadhead the oldest, most fragile of the nearly spent blooms, gathering them into a bouquet as I went. And I fell in love all over again, particularly with my newest crush, the great big Tulipa 'Apricot Impression'.
Right there, in the middle of my front walk, I sat down and reached for my iPhone. A few raindrops threatened, but didn't stop me. In decay, the tulips had a wabi-sabi beauty. Here I was, even more smitten at the end of the affair.
Oh, why did I rush to tidy up? I should have left them to grow old gracefully.
A garden isn't static. It moves through the seasons and the years. In garden design, time matters as much as space or physical attributes, and each day, month, year, or even moment is its own.
I should have known better, as I've written before about the choreography of garden design. It comes back to me now, as I celebrate each and every stage of this lovely Darwin hybrid tulip. (As always, cursor over an image to read the caption, and click any image to see the slideshow, where the images are crisper.)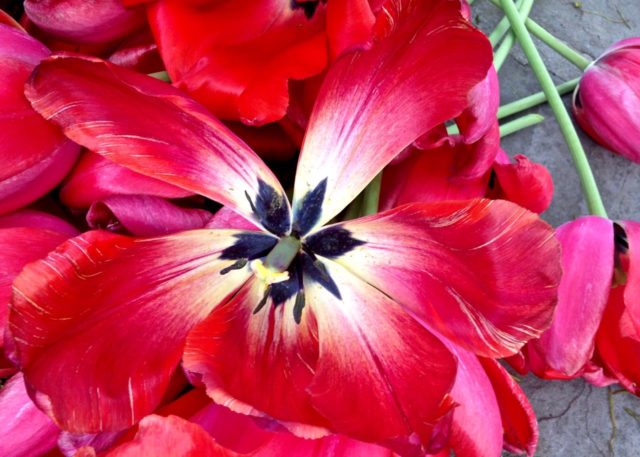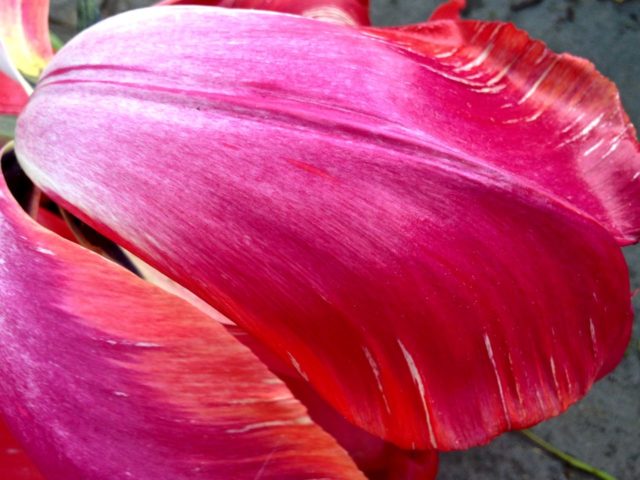 Speaking of change, if you'd like to compare my 2016/17 tulip additions with the colour palette I've been building over time, have a look at this post.
Time can be a forgotten dimension when planning a garden – one reason we end up with "gaps" between seasons. How do you play with time?