At last! Sunday gave us a day that was springy enough to let us work outside. An afternoon of liberating my pent-up gardener accomplished a lot.
But. No matter how eager I was, here are three things I didn't do to clean up the garden.
I didn't get carried away
April 2 in Toronto is a touch early for any drastic garden task outdoors. Despite what you might see on a 14-day-forecast, weather can be unpredictable and ready to April Fool you. While I did tidy up withered hellebore leaves, crunchy hosta stems, and the ragged evidence of last year's grasses, I didn't peel back their surrounding leafy blanket. Not yet. Trust me, when it's time the plants will rise above it.
Plus, I spent only three hours working on my first day out. It was the Goldilocks amount of time: Not too little, not too much. Afterwards, the muscles not used since last autumn were gently thrumming, but I won't need medical intervention. Easy does it.
I didn't walk all over the garden
The ground is still wet and easily compacted. Walking on it would be bad enough in my sandy garden, but would be a bigger mistake in a garden on clay. Clay particles are tiny, with tiny spaces between them. Treading on wet clay squeezes out the space for air and water – not good for wakening roots.
Besides, many emerging plants have yet to peek above the soil. In my garden, stepping stones give me a safe path for garden maintenance. For the remote bits, tiptoe like a ballerina if you must, and use your best yoga moves to extend your reach and take the weight off.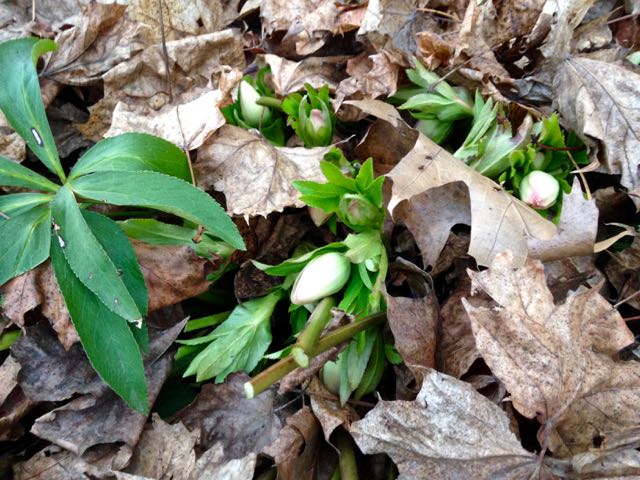 I didn't bag the leaves
Every year, we watch with sadness as local gardeners strip their garden soil naked, putting all their free raw materials into bags to be taken away. Do your best Marlon Brando*, and say: The leaves! The leaves! (*The horror! The horror!)
In my garden, brown is beautiful, contributing organic matter that's good for soil ecology and good for the garden. Not only did I leave the leaves on the garden beds, I didn't bag up any that had gathered in the driveway or on the patio, even on my neighbour's side of our shared back yard.
Instead, I raked them all into a pile in a corner of my drive, and covered them with a tarp so they don't blow away. Every few days for the next few weeks, I'll go give them a stir. Some will quietly begin to turn into leaf mould. When I have time (and, I hope, when baby C next door isn't napping), out will come the leaf shredder to give them a going over. Then, onto the garden they go.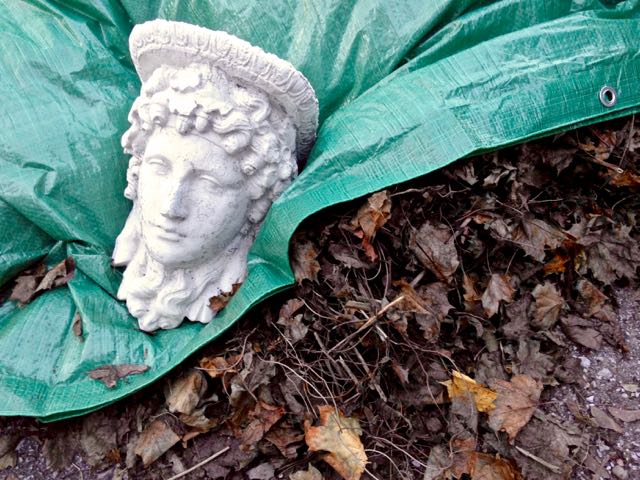 Did you get into your garden this weekend? What did (or didn't) you do?