Google "classical Chinese garden Toronto" and here's what you'll discover: we have a lot of Chinese restaurants with "garden" in their name. Digging deeper might get you this link to the lost Chinese garden once-upon-a-time on Spadina Avenue.
But do we have an actual, gardeny Chinese garden in T.O.? Not yet. And I wish we did.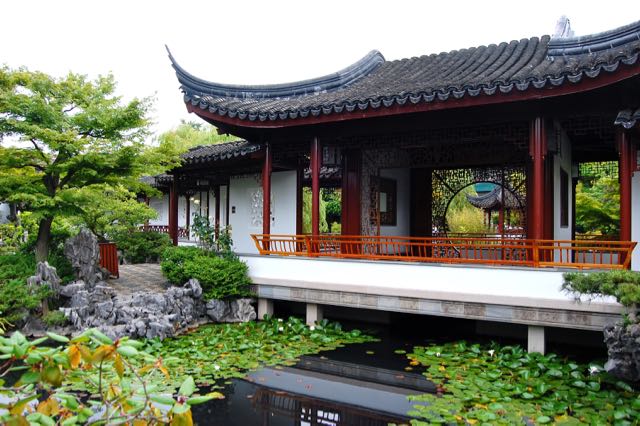 Classical Chinese gardens like the Sun Yat-Sen Garden in Vancouver are exquisite art forms. The Chinese have been perfecting this art for a long time. Over 2,000 years.
We can probably thank them for concepts like borrowed views – or using design to frame something outside the garden, which makes your garden seem bigger.
Look at the picture above. See how the moon window frames the pagoda? It's across the pond in the adjacent public garden. In fact, our opening shot looks back at the pavilion from that pagoda. Below, public and private gardens seem to merge as one big space.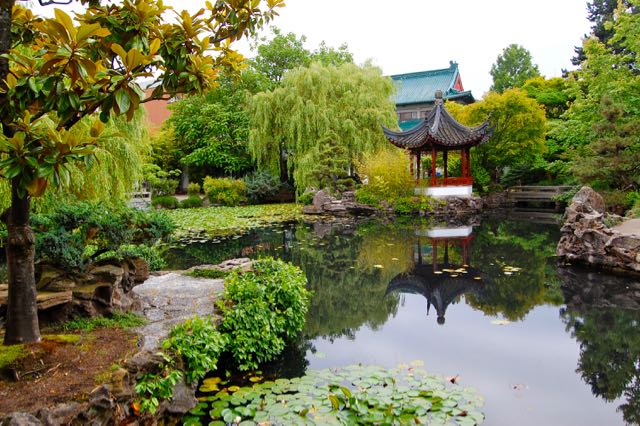 I was surprised to learn that the Sun Yat-Sen Garden was "the first full-scale classical Chinese Garden ever constructed outside of China." It was created as recently as 1985/6, and Vancouver on the Pacific Rim was a natural fit.
But it's a long way to Vancouver from here. And, between then and now, a significant number of people of Chinese descent have come to make the GTA their home.
Toronto is a garden city, and I think a classical Chinese garden would be a wonderful addition. Don't you? Back in 2013, there was talk of building one in Markham. However, I can't find any further news on that project. Please tell us if you know more.
You don't need to follow the formal rules of such stylized gardens to find inspiration in them. I've always been a rock hound, and still have my childhood rock collection (making me a pack rat, too). An essential element in these gardens, the sculptural scholars' rocks or gongshi speak to me. They've long been considered as collectible as art, if you have the bucks – as this article from high-end auction house Christie's explains.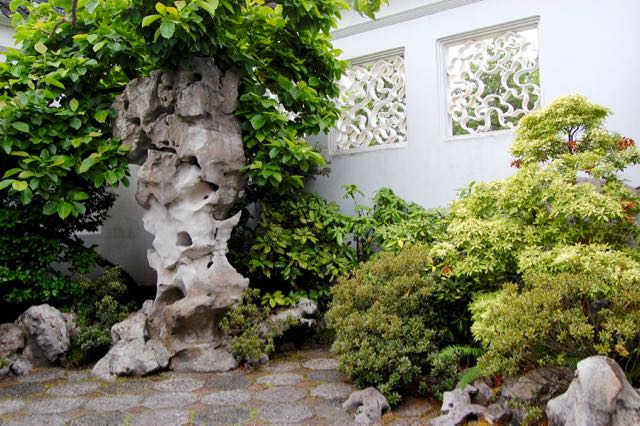 According to that article, the ideal scholars' rock had to look like "a painting by the powers of nature." This natural beauty set in stone was a source of inspiration for ancient Chinese philosophers, poets, artists – and today for Western garden designers. See how they're used natural stone in the two gardens below, in Toronto and in Atlanta.
Another Chinese garden design principle is the element of surprise and ever-changing perspectives. You never see the whole garden at once. From this, the idea of garden rooms has penetrated into modern garden styles. You could even break today's small urban gardens – perhaps no larger than the terrace below – into smaller spaces.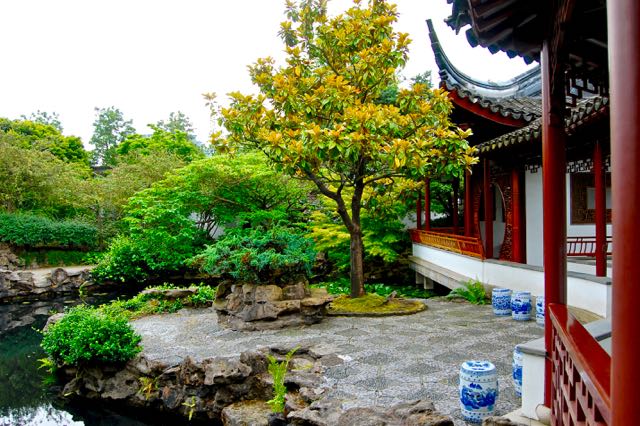 Give and take of garden design ideas is as old as ornamental gardens. The Chinese Garden at Montreal Botanical Garden borrows the Japanese art of bonsai and displays it in its entry court. (Note the bonsai ginkgo tree I wrote about this fall in a picture below.)
And, earlier this week, I raved a bit about gorgeous pebble paving, including some in Chinese gardens. Here's more from Montreal (above) and Portland (below).
Read further on this topic at the sites of fellow Canadian garden bloggers Paul Jung and Patterson Webster. Paul takes you to Suzhou, one of the first and finest of its kind, while Pat gives you her own perspective on the Sun Yat-Sen Garden.
From Pat's post, I found out that male areas of the garden feature straight lines in the paving or on the screens over the small leak windows, while female areas have curves. Fascinating, says my inner Spock.
So happy new year – Gong hei fat choy or Gong xi fa cai, as you prefer! What do you think? Would you like to see a Chinese garden on Toronto's wish list?