A while back, I lost it. I mean, really lost it. My garden tool bag, that is. Worse, it held all my best-of-the-best tools, collected over a gardening lifetime. You'd better believe that taught me a thing or few. Like:
not to get distracted by a phone call when loading stuff into a car
not to lean my tool bag against the back tire while I answered
not to forget aaaaaaaaaall about the bag as I talked on the phone
and not to zip off to another meeting… leaving my bright green tool bag in the street to shout, "Take me!"
Well, someone did. My client kindly put up signs for me in her Leaside neighbourhood. But no one replied.
Besides an important lesson about mindfulness, it showed me which garden tools I'd miss most – and, more importantly, that there are kind people in the world, who stepped up to fill the void.
One of those friends was the generous Margaret Bennet-Alder, creator and publisher of the handy Toronto Gardener's Journal. If you search our site you'll see we've written good things about it many times. In 2017 (the year Margaret turns 90), the TGJ celebrates its 25th year. Margaret was one of the first to contact me to offer her extras.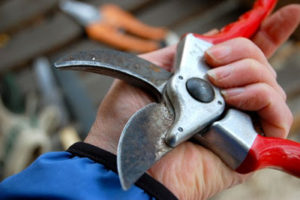 Part of her donation replaced my beloved Felco Number 2 hand pruners. Over time, I've sampled many excellent pruners. But none, none, comes close to Felco for durability, cutting performance, and great hand feel. Pruners are a garden must, and mine were among my first-ever tool purchases. Thank you, Margaret.
Margaret also replaced tools I'd owned only briefly, yet long enough to fall in love: a brand new, three-tool set of Lee Valley Premium Garden Tools (the 3-prong hand cultivator, narrow trowel, and hand rake), beautifully crafted of stainless steel with beechwood handles. These were impressive swag from the Toronto Garden Bloggers Fling. Losing mine broke my heart, so I felt Margaret's generosity deeply.
My friend and fellow garden writer Veronica Sliva likewise came through to replace my Cobrahead weeder (my review at that link) and an excellent set of Fiskars hedge shears (similar to these). But my favourite Fiskars 2-position folding saw might be gone forever. That saw's over-and-under cutting action was extremely useful when pruning large shrubs or small trees.
Then, gloriosky, my luck turned again! I won a gift certificate from Corona Tools. With it, I was able to get back a version of the red-handled trowel I'd had my landscape design grad picture taken with. I also restocked my pruning kit with a compact folding saw, and, among other things, tried out this very portable convertible pruner/lopper. Those red tools are hard to lose – at least, hard to lose in the garden.
With our maple-root-infested soil, a razor-sharp weapon is a digging essential. So I also ordered a new hori-hori knife from Lee Valley. Wish the sticker on the holster were easier to remove. But that's a quibble. This knife-cum-trowel is something every gardener should own.
Naturally, I also had to replace the bag itself, which I now see the Nantucket Bagg Co. is offering again. I found mine on E-Bay, addicted to that day-glo green. It manages to cram a lot of organization into a small space. Love the long handles, and it zips open if you like, so you can view the pockets and their contents.
A few things were irreplaceable. But a sentimental favourite, my grandfather's bone-handle knife, just happened to have a twin in my backup kit.
So, in many ways, this life lesson let me see both the worst and the best of the universe. In a way that thief in otherwise respectable Leaside even did me a favour by cleaning me out. My tool bag, while still the same eye-popping colour, is now lighter and filled with just the right stuff.