We have spray-on tans and spray-on hair. Now, spray-on grass seed! That's what you see when driving along Lake Shore Blvd. E. at Leslie (and perhaps further, I haven't looked) this fall.
That blue stuff (or green or teal) is a mix of grass seed, mulch (in this case, re-pulped paper), fertilizer and some kind of gluey polymer to hold it all in place. Of course, it also contains lots of water! The grass seed, being pre-soaked, germinates quickly, and the right polymers can help it all stay moister, longer, even without rainclouds or hoses.
It has names like "hydro grass" or "hydro seeding" or "hydraulic seeding." Here's more than you need to know about it, from a professional groundskeeping perspective.
Closeup views, just for you.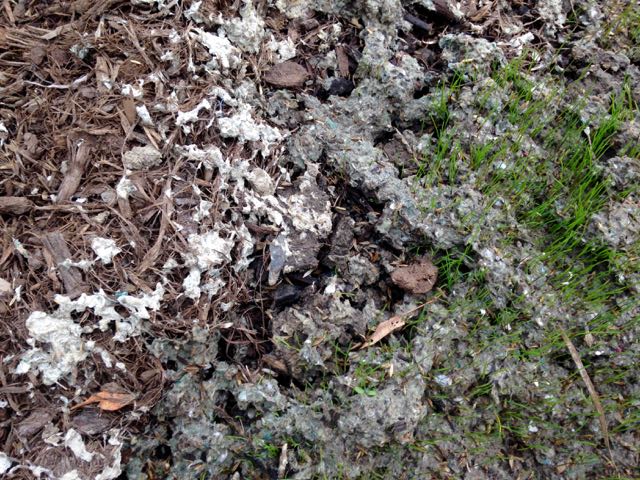 You'll see this method of lawn seeding available for home use, too. However, I think it's best for large-scale seeding like this.
Easy for me to say. I don't have a lawn! But I'm endlessly fascinated by these new (and new-ish) garden technologies. What do you think of it?
And this concludes my first post for another unofficial NaBloPoMo – in which we write a post a day for every day of November 2016. NaBloPoMo stands for National Blog Posting Month, which is the blogging step-sister to National Novel Writing Month (NaNoWriMo). Hope you'll drop by to cheer us on.