The pesky squirrel problem makes people want to stop planting bulbs. Those darned critters seem to have radar, and know exactly when and where you've planted your bulbs – then they dig them up and either eat them, or plant them in someone else's garden. Grrrrr.
But don't despair. I used to be one of those people, said Helen, sounding just like an Infomercial. But she, that is me, is a changed woman, since she discovered Acti-Sol pelletized hen manure.
No, really. And no one's paying me. The big, industrial-sized bag below, I bought all by myself.
This is my fifth year using it, and I haven't lost a single bulb to squirrel excavation. Not one. I simply plant the bulbs and then sprinkle a double handful on top of the finished planting area. Done.
Squirrels don't have radar, or x-ray vision. What they do have is an acute sense of smell. They can detect the scent of the overturned earth – and it makes them think some other squirrel has planted something delicious there. So they dig. Products like blood meal and Acti-Sol disguise that fresh-dug earth aroma – but the latter is much longer lasting, and doesn't wash away in the rain. Like blood meal, Acti-Sol is organic and good for the earth.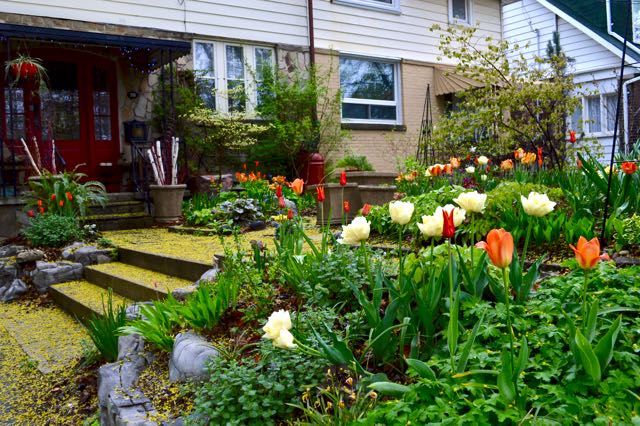 So you've solved that problem. Now what can you do about squirrels snapping off tulip heads in spring? Well, nothing really (predator urine spray works, I hear). But I've come to terms with that by simply planting more tulips!
Tulips don't come up in spring unless you plant them in fall. Why not grab up the bargain bulbs now while we have some good weather left? Get yourself some hen manure pellets at the same time. Don't poo-poo it. It works!