If you're a creative person (as gardeners often are) it's easy to get hung up on perfection. Rather than appreciating the garden that is, you compare it with the garden that exists only in your mind – your dreams. And you grumble.
I love your garden, people might tell you. While, grumbler that you are, you give them a half-hearted thanks, then say: All I see are the flaws!
Is that you? It's certainly me. And it's dumb.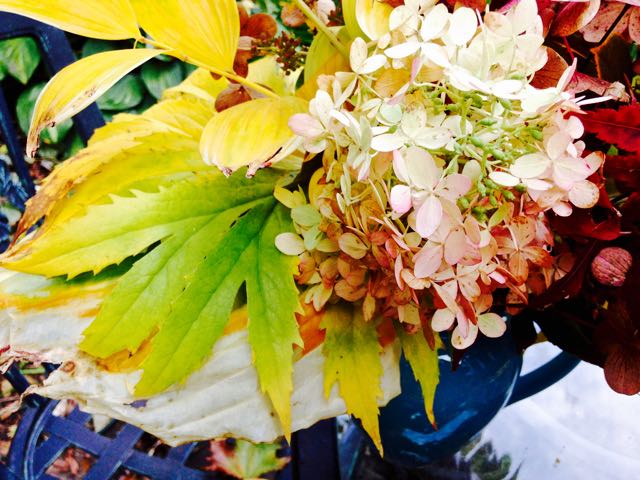 Fall is a great time to remind yourself that things don't have to be perfect. The leaves are withering, petals have dropped or are dropping. Everything is moving slowly towards decay.
And, yet. And, yet, there's beauty.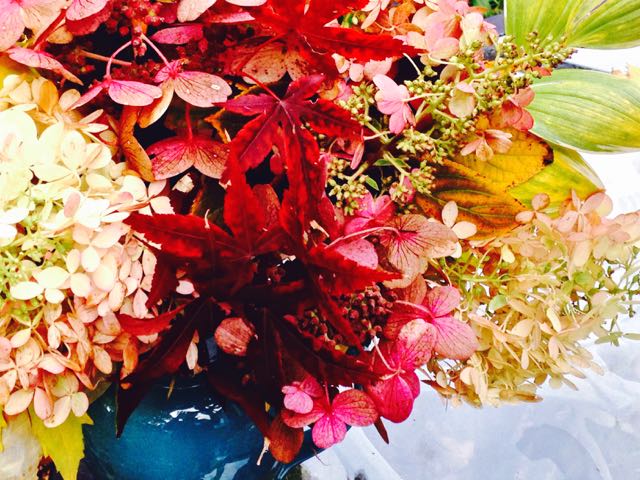 The other day, I walked round my tiny garden and gathered up some of the last bits of colour and arranged it in a blue vase – the same blue vase that held a bunch of overblown tulips from the garden this spring.
The hydrangeas were fading from pink to brown. One of the hosta leaves was already ragged, its edges thin and drying. But I liked the band of bright yellow the low temperatures had given it. They were all something new.
The first time the stems went into the vase, I was unhappy with it. So out they came again, and I gave it another go. Even after that, I wasn't entirely satisfied.
But it's okay. Things don't have to be right the first time. They don't have to be right at all. They just have to be.
As I say about a rough first draft for client work: it's 100% more draft than they had before. Can a garden be like that? Can we forgive it for not being perfect? Can we forgive ourselves, and allow ourselves, like a garden, to grow?
Forget the flaws. What do you love about your garden, especially at this time of year?