Gardening is a conversation. That's what I've been ruminating on since spending an enjoyable hour last month talking to the Oshawa Garden Club about Gardening in Shade.
What do I mean?
Well, of course, a conversation is a sharing of thoughts, ideas and opinions with other people. After I spoke to the lovely folks in Oshawa about shade gardening, some came up to share their own ideas and problems with me.
For example, I learned that rascally rabbits are a bigger problem for Oshawa gardeners than they are in my small city garden, where the most dastardly critters are squirrels and raccoons. I suggested using a scent-based deterrent like Plantskydd. One woman told me about her success using human hair (from a hairbrush or salon). A conversation, see?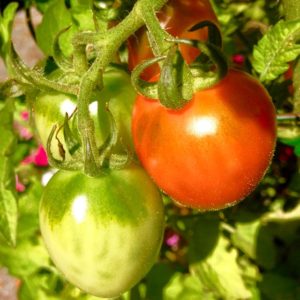 But gardening itself is a conversation.
A juicy, red tomato gleaming in the sun says, Eat me! To which I reply, Thank you, I will! A droopy set of leaves wails, I'm thirsty! And that sends me running for the watering can or hose. When we practise active listening with our gardens, it can tell us things. It has opinions about what works and what doesn't.
Sometimes we treat our garden spaces to a monologue, and forget that dialogue is possible. Perhaps our biggest example of "talking over" the garden without listening is when we fertilize without checking in – with a soil test – to see if it's what the garden wants or needs. I know. I plead guilty, myself.
Garden blogging is too-often a one-sided conversation.
We bloggers write, not because we like to hear ourselves talk (honest!), but in hope of engaging readers like you. They say most blog comments come from other bloggers. Like the Oshawa woman who said kind things about our blog and frequently (but silently) drops by, regular readers don't think they're allowed to comment. But you are. You are!
Let me invite you, officially and emphatically, to join in.
We all have things to learn from each other. Scroll down to find the comment box under Leave a Reply. Say Hi! Tell us why you garden. Tell us cool gardening tricks you've discovered. Tell us what brought you here – or what you'd like to see instead. We've learned over the years how important replies are, and love chatting with real people.
Tomorrow, we start a month of celebrations for our 10th year of blogging at Toronto Gardens. We'll be asking you to comment, and hoping to reward you when you do. Why not practise now?