Toronto's downtown skyline from the corner of First and Channel Avenues on Ward's Island
For over 20 years, whenever we crossed the bridge to our summer home on Ile d'Orléans, in the St. Lawrence River just outside Quebec City, I'd take in the view of the broad river and forested mountains and say a little prayer, "Don't ever let me take this for granted."
It's easy to become blind to the things we see every day. Familiarity can breed indifference (as Aldous Huxley said). Our yearly trip to QC was a reminder to open my eyes, and keep them open back home.
But, sometimes, all you need is to spend time with visitors. Do we ever look at our city as closely as when we entertain guests? Seeing 70 garden bloggers, visiting last June from all over the States and UK, respond with delight to our own Toronto Islands brought back my summer prayer.
I hope that, next time you ferry over to the Islands, you take some time to stroll the lanes of
Ward's and Algonquin Islands and really think about how special they are.
Even if we don't live there (and chances are very good we never will), we're lucky to have them.
Every couple of years, the residents' association opens many of the cottage gardens to the public.
The Toronto Garden Bloggers' Fling was so fortunate to get a private preview of the 2015 Islands Garden Tour.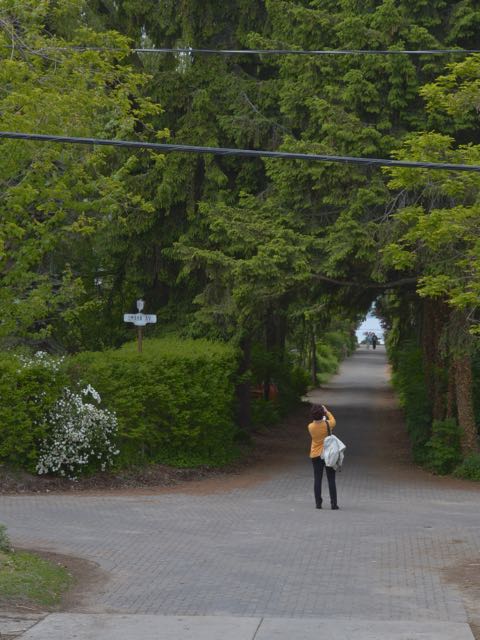 Our visiting bloggers were captivated by the car-free leafy lanes.
They loved the charming diversity of these mostly informal spaces.
And 2015's late cool weather put the "Spring" back in the "Fling" this year, especially in
the Islands' microclimate. Note the lingerling lilacs and spring bulbs.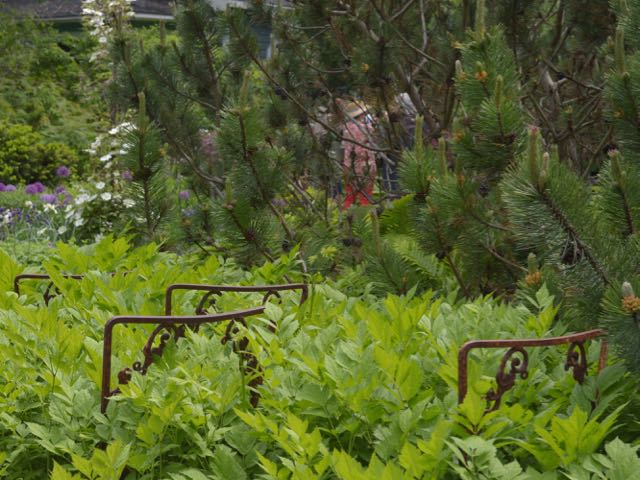 Ours are islands of ingenuity, where rusty stuff is cleverly recycled – because it's easier than hauling it to the mainland.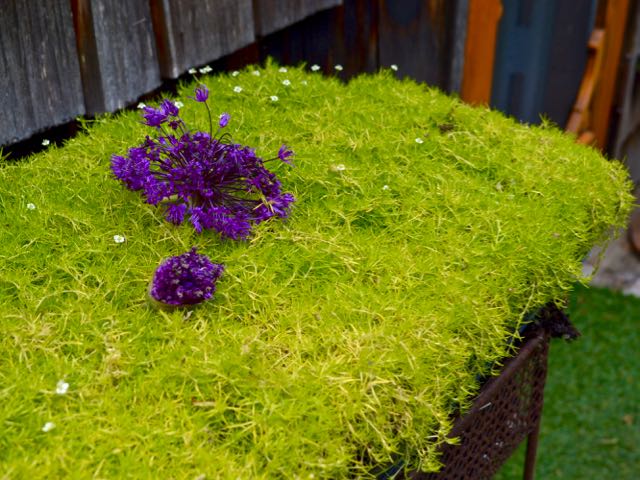 Surprising planters offer inspiration, like this one topped with golden scotch moss (Sagina subulata 'Aurea') and an
ephemeral head-dress of purple Allium flowers.
Cottage gardens feature wall-to-wall greenery, with odd-ball but wonderful touches
like a cast-off TV antenna as an obelisk or a tree-like display of golden kale flowers.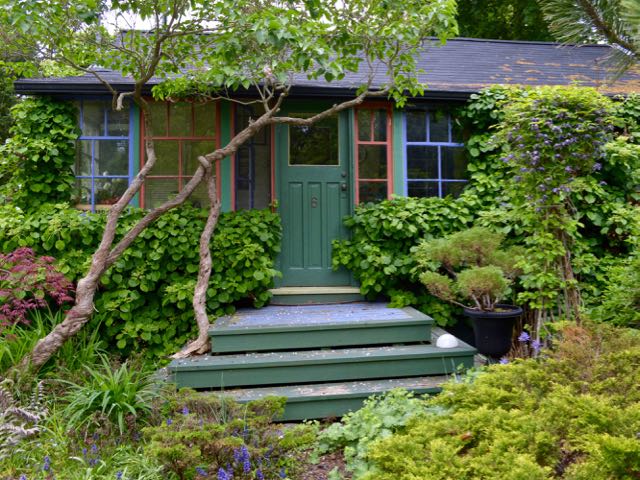 Paintbox colours on the woodwork make me wish I could do something this cool at home. And why not?
Because we were competing with the rainclouds for precedence in the gardens that afternoon, our bloggers might have missed seeing one of my loves: the willow tree pebble mosaic at the Ward's Island clubhouse.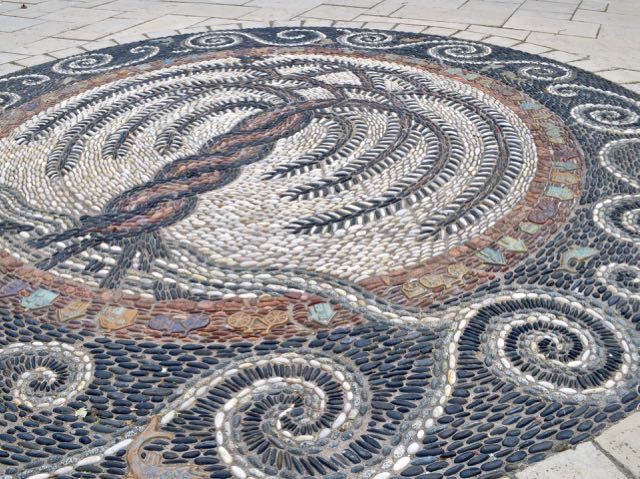 This cool work was assembled in panels, and became a community project. Find links to references after the next photo.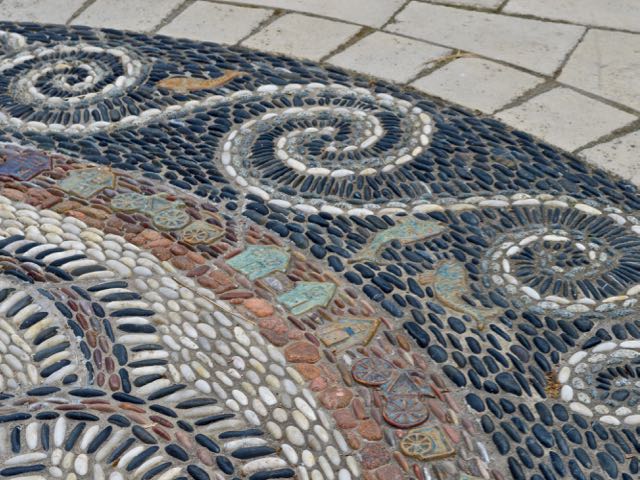 See the bikes with their pull-carts? That's how Islanders need to transport everything from groceries to building and garden supplies from the mainland.
This link takes you to the Toronto Island Mosaic blog. Scroll to the beginning for the play-by-play.
And this link takes you to the story from designer Kathleen Doody.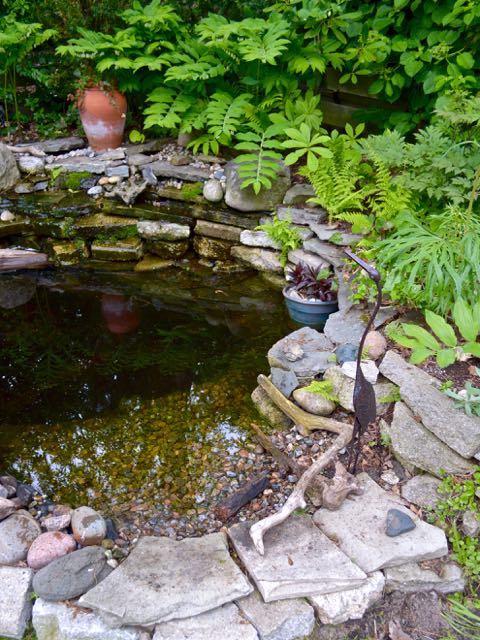 The clouds began to assert themselves by the time we reached Algonquin Island. But the
gardens and gardeners here were no less charming. I learned, for example, that
the visiting birds love the pebble ramp into this pond. (Didn't ask about raccoons.)
Raindrops began to patter on this colourful vignette. It was seeing them all over the Islands
that made me plant Camassia (the blue bulbs here) in my garden. So happy I did.
The tissue-paper delicacy of tree peonies seems to last longer on the other side of the ferry.
Island gardens are all about mix-and-match magnificance. It's gardening with panache.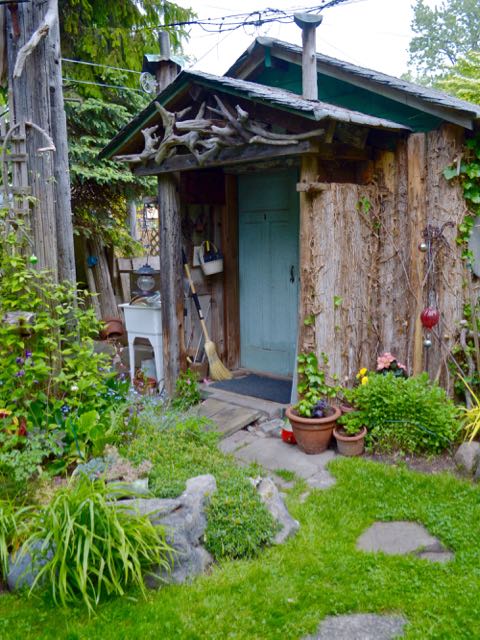 For the price of a ferry ticket, we can make our getaway to a very different kind of space.
In a big city like Toronto, let's never take this for granted.