If this shot looks familiar, it's because I couldn't resist reusing it – amazed at how lush and leafy a green roof can be.
Every garden that welcomed our 70 Toronto Fling bloggers in June 2015 deserves thanks. But extra-special thanks go to the folks at the Cabbagetown Preservation Association (especially Helen and Ruth) for helping us get access to the green roof at the Hugh Garner Housing Coop on Ontario Street. Along with the charming gardens off Magic Lane, the rooftop made Cabbagetown a Fling highlight.
Opened in 2010, designed by Toronto architect and sustainable green roof specialist Monica Kuhn (and executed by a large team – see the page on GreenRoofs.com for who's who), it looks nothing like the flat expanses of sedum that pass for green roofs on many buildings these days.
This is a garden, with everything gardens on solid ground might have – places to gather and enjoy the outdoors, in sun or shade; places for residents to grow veggies; a water feature; even sizeable trees and shrubbery. But that's not all. Click the first link above to see plans and details about its sustainability features, such as rainwater capture that helps cool the building in summer. Cool is right!
Besides the appealing plantings, the rooftop garden offers a million-dollar view of the downtown skyline.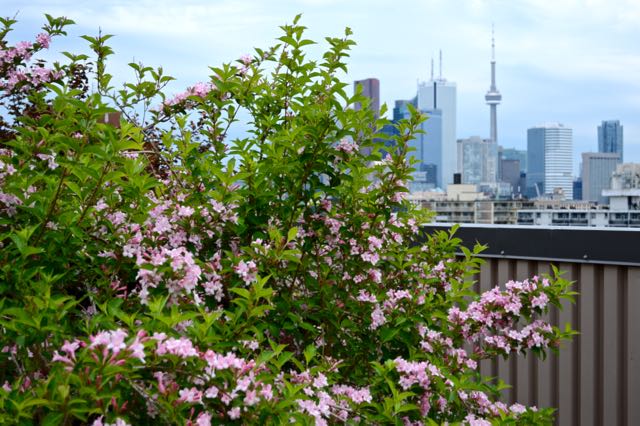 A zoom lens brings the skyline closer. But never mind that, get a load of the blooms on that Weigela.
You also get a bird's-eye view of the artwork in the distance, which soon might be confirmed by Guinness Book of Records as the World's Tallest Mural – a phoenix on a residential tower in St. James Town. Created by St. James Town youth, along with professional muralists, it has a great story (and a great number of storeys), which you can read here.
Ramps and open spaces make the whole area accessible for people with mobility issues.
A bridge crosses the feature they call the stream – cleverly designed from shingled concrete pavers.
Gazebos and stepping stones enhance the feeling that this is a park, not a rooftop.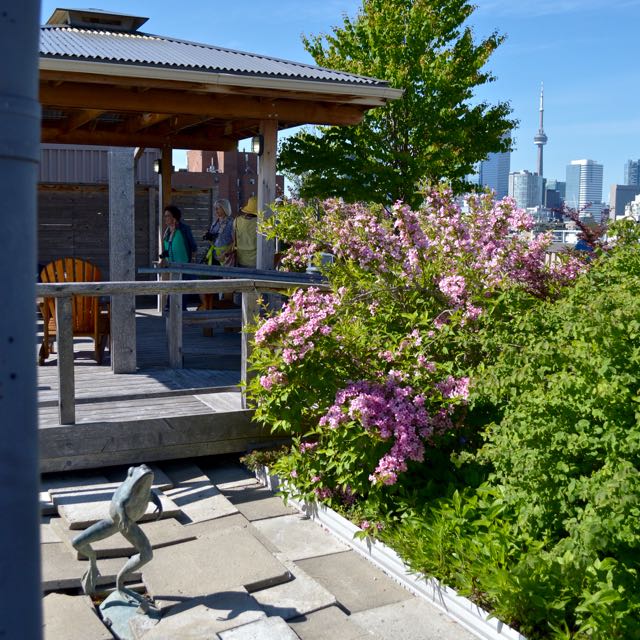 Most of the pictures earlier in this post are from a visit to the rooftop during the Hidden Gardens of Cabbagetown tour in 2014. When I visited with the Flingers in 2015, I was focussed less on photographics than logistics (like how to get 70 people up and down 6 storeys with one small elevator and a tight schedule?). But I did manage a snap or two.
The gazebo called out to our bloggers to catch their breath, or catch up on social media.
A massive 'Diablo' ninebark (Physocarpus) looks happy against an equally grand red Weigela.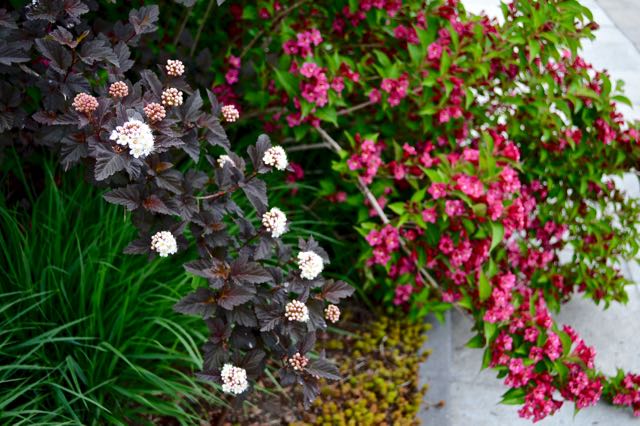 Ninebarks strutted their stuff in many gardens we saw – becoming the unofficial "Shrub of the 2015 Fling." You can see why.