A first glimpse at the most private section of a garden in Niagara-on-the-Lake
The generosity of private owners who open their personal spaces to the garden public should never be undervalued. I've known this as a garden tour fanatic and as a volunteer. But being one of the organizers for the 2015 Garden Bloggers Fling in Toronto brought it home to me full force. Today, my gratitude goes out to those who could, with far less inconvenience, keep their gardens to themselves – but don't. This spectacular garden in Niagara-on-the-Lake, shown in part, is just one.
This was one of the gardens on the 2015 Shaw Festival Guild Garden Tour, who partnered with the Toronto Fling on our optional Niagara day. The owners kindly agreed to keep it open one more day for our bloggers – along with gardens we blogged about here and here. Do keep alert for the 2016 Shaw Guild tour, which I'm sure will have equally wonderful gardens. Like many local garden tours, it's a fundraiser for a great cause, which is a perfect way to express your gratitude.
A few steps more reveals a garden with wonderful attention to detail and fab foliage. "Fab" is the technical term.
What can I say? Beautiful on so many levels.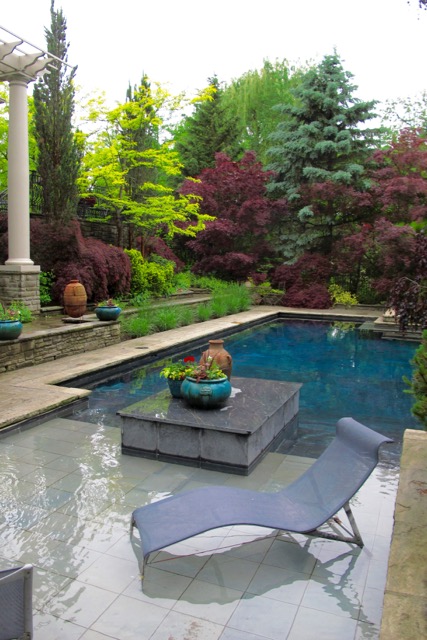 Picture yourself lounging here on a hot day.
Turning around presents you with this. Remember those curtains. We'll come back to them.
The sweep staircase invites you to the upper terrace.
There, you enjoy this view of the pool below. The overcast sky was ideal for photography.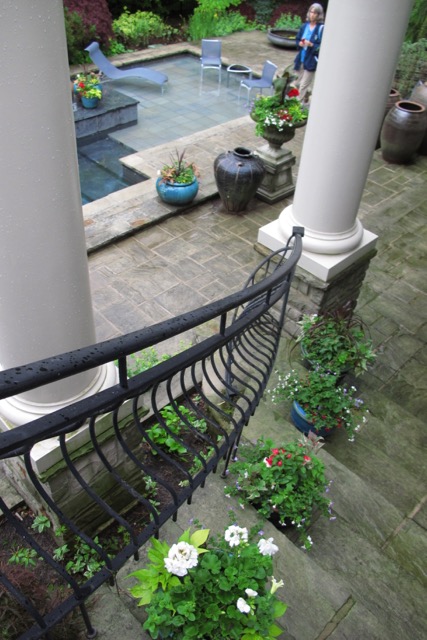 Sweep back down the stairs.
Pause to admire a subtle detail.
Then be beckoned through the gate – accompanied by the splash of a water wall.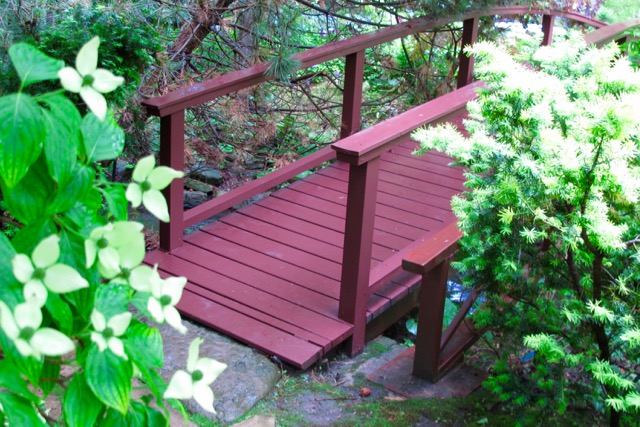 Beyond the gate, you find yourself in a very different kind of space. Naturally, you want to cross the bridge.
The middle of the bridge lets you look across this edited wild space, with its river of yellow flags (Iris).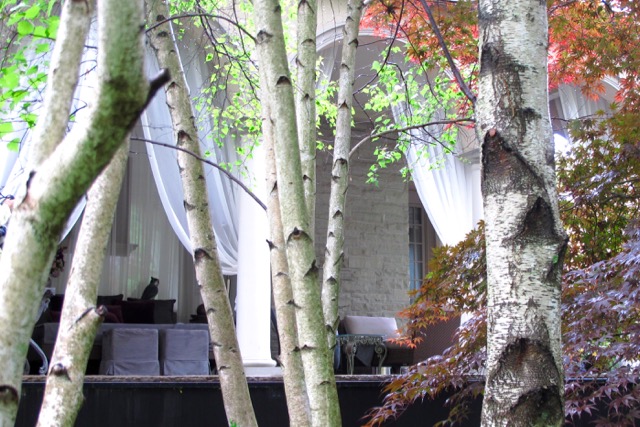 A little further, and a grove of birch trees screens that curtained area you saw before.
Steps? Of course you must climb them.
Here you find yourself on a second upper terrace, looking down at the azure swimming pool. Trimming the edge
of this terrace, an L-shaped pool with an infinity edge, lined with dark tile to be more reflective, is clearly the source
of the water wall you passed earlier.
When you tire of dipping your fingers into the pool from your lounge chair below, here's where to hang out with your
wine and good book. Do people with gardens like this "hang out"? Who knows? I'm grateful they let us do it, though.
On Day Two of my month of gratitude, I'll ask: would you be willing to open your garden like this?