We didn't know what to expect behind the gate of The Green Room
Once I stepped across the threshold, one word jumped into my brain: Texture! Say it slowly, say it often: Texture, texture, texture. When your garden is (mostly) green-on-green, contrasting textures, like all these delicious whorls, fringes and planes, can can be as strong as contrasting colours.
The Green Room – though really less monochromatic than a duochromatic (yes, apparently it's a word) green and burgundy – acts as an anteroom to the main garden and living space. And while this lakeside garden in Niagara-on-the-Lake is lust-afterable on many levels, let's focus on textures here.
Theatrical, the Green Room certainly is. Dramatic in its simplicity. Green Japanese maples rather than the more typical, showier reds, catch the light to resemble green fountains against the dark, wavy foliage of Hinoki false cypress hedging. How different the texture of that hedge would be if they'd used regular cedars. Rustic basketry skirts the base of each tree – yet it somehow echoes the visual texture of the ladder-back of the classic bench.
You get a closer look at the ruffled hedging texture here, along with the smoother, formal plane of the clipped boxwood and the soft velvet of the grass. (As an aside, keep your eye out for that lamp, repeated throughout the garden.)
We transition to the next space through this intricate (much photographed) gate. Trying to describe it is playing with my head a bit, so forgive me if I ramble like an idiot. But I love how all the subjects from nature, ones that would be highly textured themselves – sticks and leaves, feathers and fur – are rendered in hard, smooth metal. Yet the matte surface gives it all a soft glow. There, now. Have I done your head in, too?
While you're thinking about texture, think how a reflective surface like a pool is both smooth in itself, and a mirror to both reflect and transform other textures in the garden. Like this amazing moon wall of tumbled stone. Squint your eyes and try to picture the same wall in a different material. Would it work as well in rectangular brick? Discuss.
I've seen stone like this washed up on Great Lakes pebble beaches. It's a fitting material to use on a grassy terrace overlooking Lake Ontario (and Fort Niagara). With the rounded stones, the nubbled surface of the wall and steps manages to seem both soft and hard. The metal bench reminds me of that amazing sculptured gate. And there's that lamp again.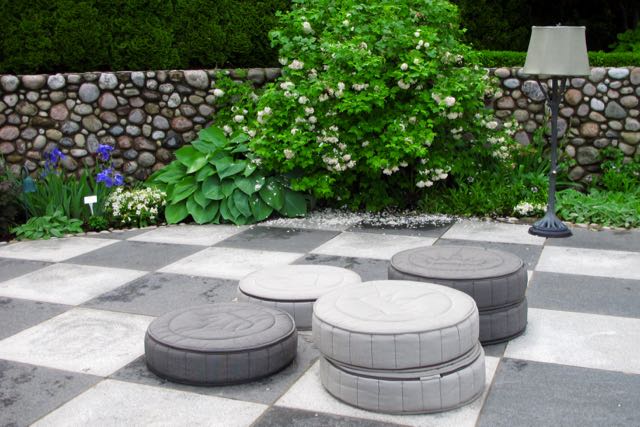 Now we are back in the pool court. Roundness shows up here in both the stones and in cushions shaped like checkers pieces. The checkerboard paving irons out the colours of the stonework. Everything makes me want to touch it.
Here's the moon wall and pool again. Just because. The checkered paving sits on the same plane as the water surface. Smooth on smooth on smashing.
Now I couldn't imagine having a property like the one we've been looking at. But it doesn't mean I can't take away ideas – like this from another, equally spectacular garden in Niagara-on-the-Lake – such as thinking more about the textures of plants and materials, and how to mix them in my garden. Share your tips in the comments. I'd love to hear them.