Miriam Goldberger and Paul Jenkins (with the lovely Penny) at Wildflower Farm
As if three 13-hour days of the Toronto Garden Bloggers Fling weren't excitement enough, and an optional fourth day in Niagara didn't do us in, on the fifth day Sarah organized an outing to native seed producer Wildflower Farm. We confess that while we've known Miriam Goldberger for years, this is a trek Sarah and I hadn't made – till our game U.S. and UK out-of-towners gave us an excuse.
Early June was not the ideal time to see acres and acres of wildflowers in bloom, with a few exceptions. But it was perfect timing for a clear, sometimes surprising view of this family operation.
Surprising because, despite the laidback, back-to-the-land, hippyish vibe that comes with a name like Wildflower Farm, for Miriam and her husband Paul Jenkins producing quality wildflower seeds is serious business. Particularly so for Jenkins, who is the brains behind seed processing techniques that are part wacky Rube Goldberg contraption and part brilliant science. Come see what we mean.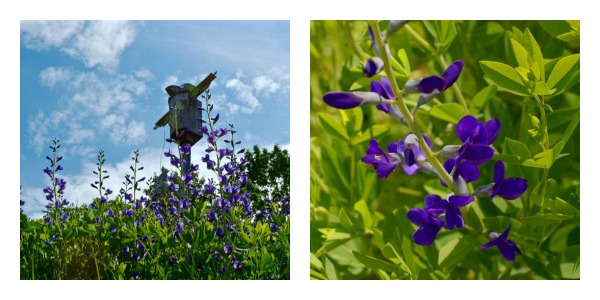 Many of the flowers we did see matched the blue skies that day: deep blue false indigo and cloudlike white and cream (Baptisia australis), sky blue wild lupins (Lupinus perennis), mauvey Penstemon, with sunny splashes of golden Alexanders (the wonderfully consonantal Zizia aurea) and Coreopsis or tickseed. In a scree bed, the winecups (Callirhoë involucrata) were just getting started and the smoky seedheads of prairie smoke (Geum triflorum) and glossy native prairie crocus (Pulsatilla patens) caught the sunshine. Back in Toronto, it was pouring that day.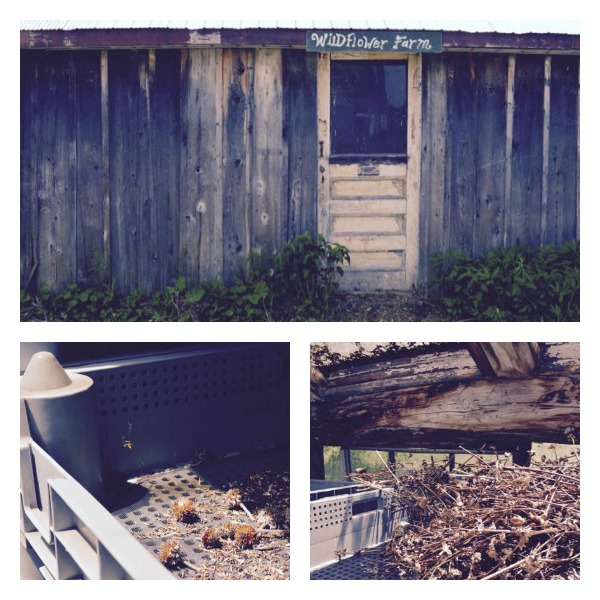 Don't be fooled by the rustic look here. After the harvest out in the fields, this is where the magic (aka drying) begins. A small business like Wildflower Farm has to be a clever operator. These stackable drying racks were snapped up at a bargain price after almost being discarded by another business. The dry-sauna heat in the old greenhouse gets the job done.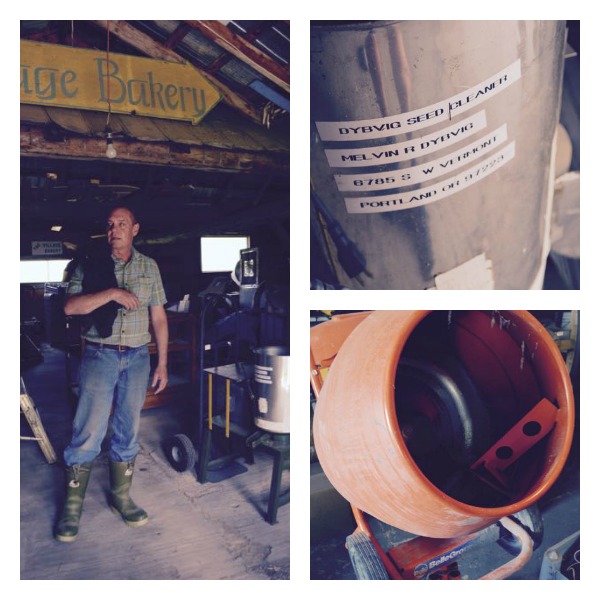 How do you separate the seeds from the chaff – and tougher plant debris? Each species is different, and having been at this since 1988, Jenkins has discovered or developed ways to get at the goods. Some ideas put existing machinery to new use – like a cement mixer or meat grinder. Some required tracking down obscure inventions by others, like this seed cleaner, one of 50 made by a guy in Oregon, chased down – literally, by car – from a vendor in Georgia. Some are Paul's own invention.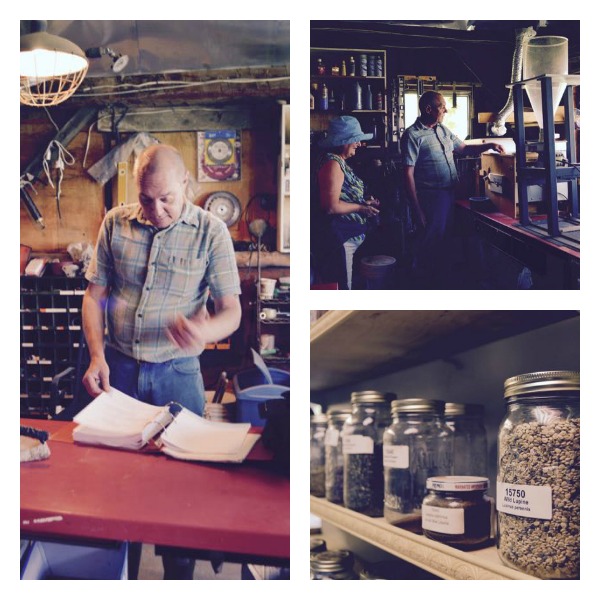 It's all captured in Jenkins' Wildflower Farm bible. That's 30 years' worth of intellectual property behind the business of wildflower seed production – from how to grow, harvest and separate the seeds to how to measure, precisely, 100 seeds from tiny to huge, fly-away to heavyweights. Do you think about that when you buy a packet of seed? Well, I certainly didn't. Jenkins points out that, unlike some native plant seed producers, he sends customers pure seed. Only the good stuff.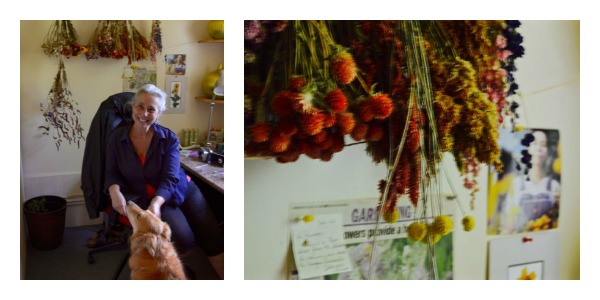 And, of course, we know Miriam, often the smiling face of Wildflower Farm. Dropping in to her office at the end of the tour (and after a delicious lunch spread conjured up by Paul) was the capper for a fascinating day.

Since our visit, we we've been happy to hear that Miriam's 2014 book Taming Wildflowers and its publisher St. Lynn's Press has won Silver (also up for Gold) at the upcoming 2015 Garden Writers Symposium. We reviewed her book last year.
Happy bloggers heading back from the field under gorgeous skies. We'd love to come back in August when the fields are closer to their flowery best.
And here's one of the fields (and beyond) – perhaps the most famous one, the set for a recent music video.
I can't close without sharing these. Do you see the faces? The one with the red eyes reminds me of the jumping spider family that shares my office window with me.  Even the machinery is wild at Wildflower Farm.