The wee folk will have fun spotting all the wee folk (and one large troll) in the Vandermeer fairy garden.
Maybe it's the Let's Play theme at Canada Blooms 2015, but I found myself wishing I were a kid again. Some garden writers might give me a hard time for even daring to think of applying the word "whimsy" to a garden, but many parts appealed to my inner whims child.
Not to say the show is only for kids this year. My inner grownup would've liked to take a few things home. A greenhouse I'll post on later, for instance. But if you're looking for a March Break excursion, keep Canada Blooms for the rainy days. The show is tucked in a new location, making it a tad harder to find. But it means there are fewer ways for kids to wander off into the maze of the Home Show.
So have a look at what my inner family liked, and tell me if you agree.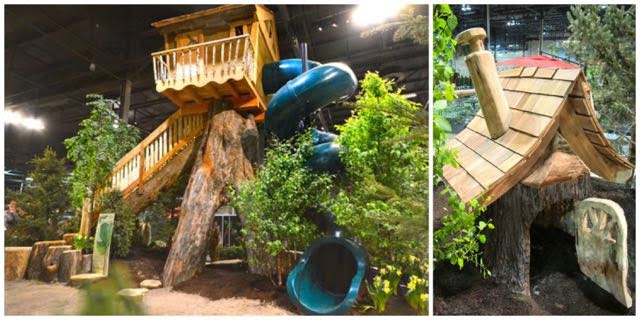 What goes up into the Bienenstock treehouse must come down that curlicue slide. Yes, adults are allowed, but only with that proviso. The hobbit house carved from a 200-year-old stump made me want to be three feet tall.
The Toronto Botanical Garden continually outdoes itself for Canada Blooms. This year, their theme was A Pollinator Playground and it included four delightful mini gardens. But what I really, really wanted were those butterfly wings.
Parklane played the Rain Game with five ways to rain garden, and lots of native plants. Their outdoor living spaces were grownup-friendly (and I could find room in my garden for that archway), but the downspouts were works of art, literally, that kids would surely find cool. Art in the garden was by Floyd Elzinga and Jeff Smith.
A fairy ponders her next move on the giant chessboard in the Near North garden.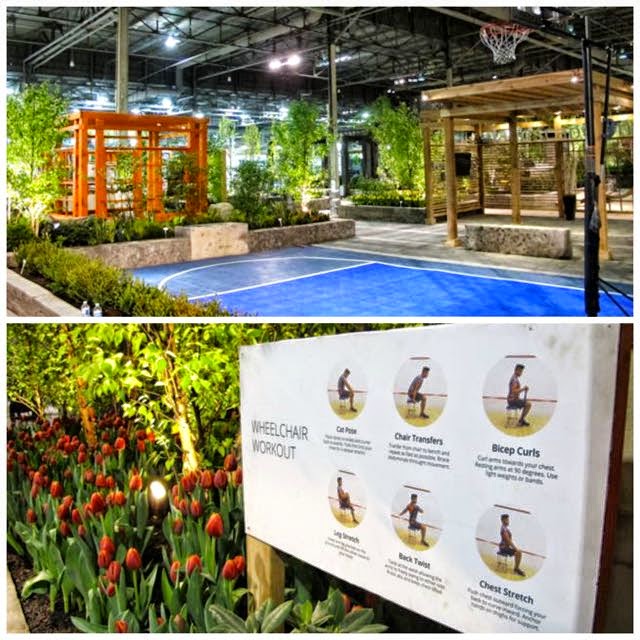 In Shawn Gallaugher's Otium garden, the focus was fitness and play, for regular Joes like me as well as PanAm and ParaPan Am 2015 athletes. Some of the structural elements will live on in a new park for the St. James Town community.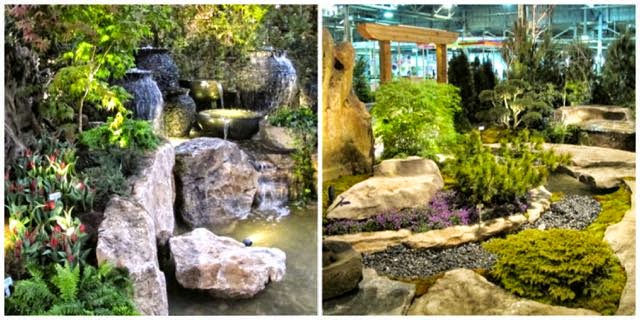 Mum and Dad can look at BBQs, patios and pergolas aplenty. Genoscape (left) and Garfield Thompson (right) did beautiful things with stonework and water. The new location was much better suited to heavy loads than past years.
Finally, I love the Garden Club of Toronto flower show. It's as fascinating to read the judges' comments on entries as it is to see the participants' creativity (including Go Fly a Kite designs by the smallest small fry). Always a must-see for me.