'Therapy' – Joyce Johnson's ribbon-winning design in her category at Canada Blooms 2015 – seems like a serendipitous way to begin a post on The Herb Lover's Spa Book.
Geez, it has been a cold, cold, cold, cold, cold few months. The snowy, snowy, snowy weather is finally receding, at least in Toronto. Still, we could use a little TLC, doncha think?
The Herb Lover's Spa Book by Sue Goetz (St. Lynn's Press) is all about how to "create a luxury spa experience at home with fragrant herbs from your garden." Goetz divides her book into three sections. The first is about garden design with a spa focus. The second is about 19 types of herb that are pretty easy to grow – and how to plant, harvest and preserve them. Then there are recipes for making your own spa therapy products, including ingredients you've grown yourself.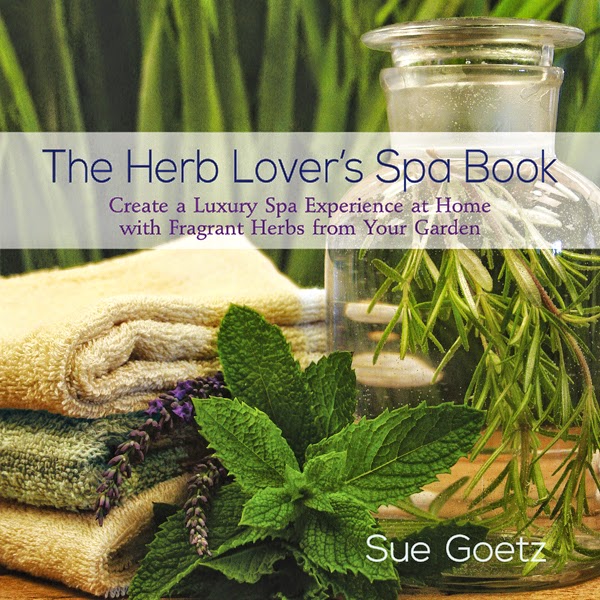 Goetz includes smart ideas. Like using fine cornmeal in a scrub in place of earth-UNfriendly micro-beads. Or how easy it is to make old-fashioned pleasures like herbal sachets to tuck into a pillowcase.
Most of the recipes sound delicious. Making my own vanilla-scented jojoba oil looks dead easy – after that wee tricky bit of actually finding jojoba oil and vanilla beans. There's a nice recipe for hand and nail butter, using cocoa butter, beeswax, grapeseed oil and and essential oils – with an accompanying description of a hand massage that made my shoulders unclench just reading it.
But if I can wear my quibbler's hat for just a moment – it isn't about Goetz or this book specifically, but with the claims made generally by the spa industry, and which writers sometimes take up without question. Some "spa science" is questionable.
Yes, a massage feels fantastic and, sure, fragrances can be soothing and even transportative. The problem begins when we start giving spa therapies magical properties. Like "detoxification." Or even something as taken-for-granted as epsom salt in a bath – does it really make it better than just a warm bath itself for relieving pain in your aching muscles? No, actually. The science doesn't support it.
Taken with a grain of (epsom?) salt, however, I like the idea of home-made luxury, and Goetz does show how make it simple. The torture of receiving a book like this to review in mid-February was not having anything homegrown to try it with. But soon, baby, soon. I can almost smell the rosemary.