An eye-catching swathe of red haws (hawthorn fruit) on Lake Shore just east of Leslie (taken Dec. 6, 2013)
This stretch of hawthorns I often walk past keeps the ruby-red fruits well into winter. Have you noticed them? They're well placed for show against the dark brown SolarWall on the City garage next to Loblaws. The leafless trees were photographed last year around this date. And look at all the fruit!
I'm guessing, thanks to an evening of obsessive web browsing, that these are Washington hawthorn (also called Washington thorn – both with the species name Crataegus phaenopyrum). Some good info from the Missouri Botanical Garden here, good pictures from Online Plant Guide, and from a Canadian source I just discovered, Michael Pascoe's Canada Plants. Can you confirm my guess?
My guess is based partly on the pendant, persistent and abundant clusters of red haws. While these are beginning to dry, you can tell they were once quite glossy.
This shot gives you a good look at the thorns. Haws plus thorns equal hawthorns. These ones are long. Having elbowed my way into the tree's crown to get this photo, I can also attest to their sharpness.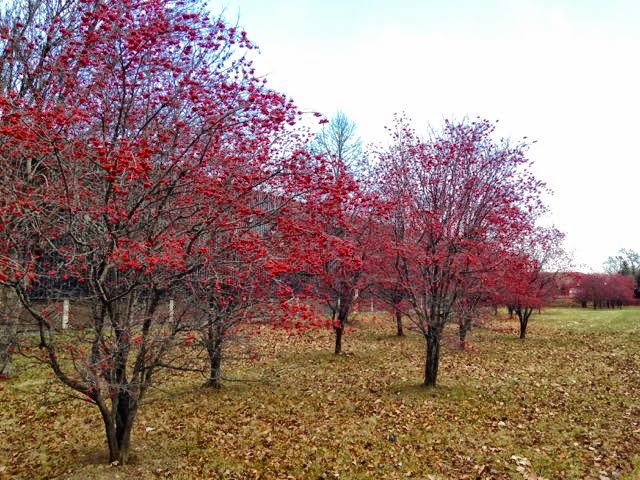 Looking east lets you appreciate their massed beauty.
A few weeks earlier, the same view would have looked something like this.
In close-up, the leaf shape is somewhat variable – not consistently three-lobed. Great colour, though.