Convertible, moving-wall greenhouse, with back wall open for summer.
In Buffalo this summer, while Helen and I toured the city's must-see Garden Walk, I became deliriously envious (I mean, inspired) of a design solution for convertible greenhouse. Buffalo gardeners Arlan and Dom had transformed their greenhouse into four-season use. A greenhouse that doesn't turn into the fiery gates of hell in the summer? So smart! What they designed (and constructed themselves) is a greenhouse attached to the back of the house, and enclosed for the winter. So far, so good: typical greenhouse. But in spring, the magic happens, when the entire back wall pivots upward on a hinge into a horizontal position, and held up by pillars. The wall then serves as a summer patio roof, (with fabric shading), and the fully open wall lets fresh air flow into a now open-air greenhouse.
Great tip: Wild strawberries in the gaps of the stone steps leading from the terrace. Arlan says they mostly "provide the squirrels with a buffet".
The terrace, protected with leafy arbours, is a shady and restful oasis. Wide stone steps take you out to the main garden.
Some greenhouse plants, (like this burrows tail sedum that made me gasp), remain inside the greenhouse winter and summer.
Classical fountain sculpture looks towards the terrace.
This thirty-two year old gardenia, standard bay trees, and a small orange tree all summer outside on the shady terrace.
The icing on the cake of this tour was a viewing of the remarkable scale model of their entire house and garden, including all its structures, especially the greenhouse. A beatiful overview, in intricate precision. Mind-blowing, really, is the only word for it.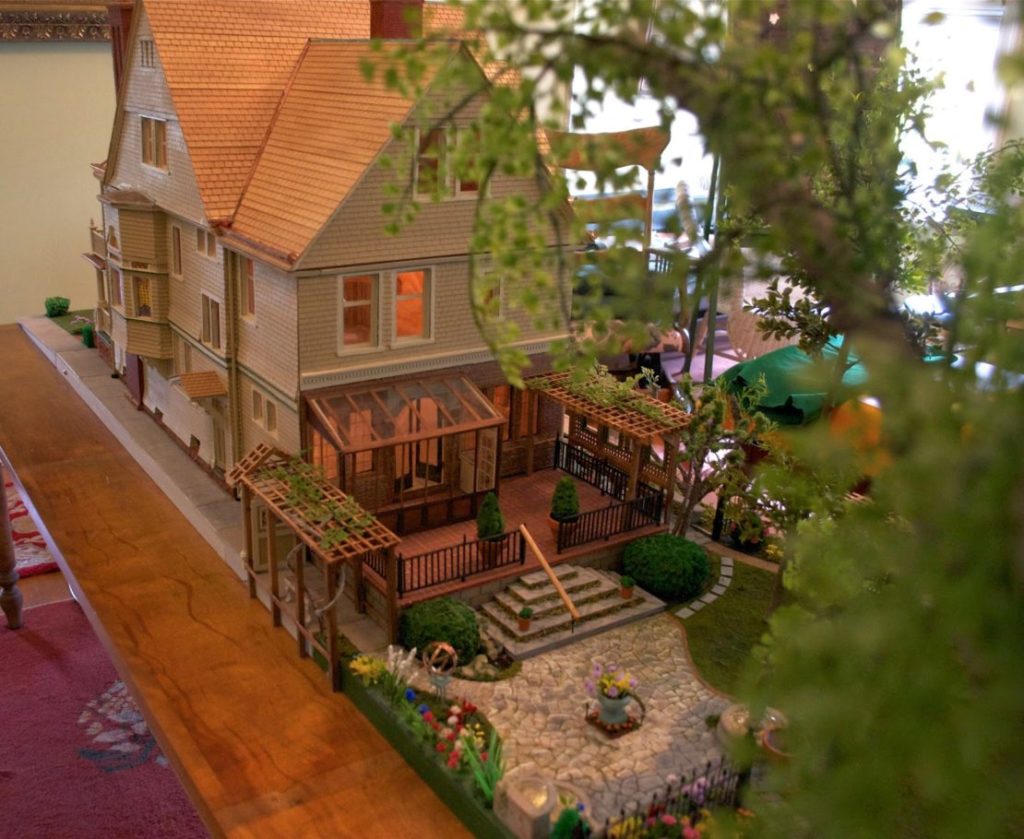 Scale model of the historical house and garden shows the greenhouse construction.
The only thing now is for me to somehow reproduce this ingenious greenhouse. Maybe, one day.