Do these stepping stones above the water call to you?
What draws you through a garden? The answers pop up again and again as – in the midst of another January coolth-wave – I look longingly through garden photos. Certain garden features give me what I call "come-hither looks." Come here, they say, irresistibly. Walk this way. 
Part of this is related to a photographer's trick: leading lines. The lines that lead your eye through a picture can lure your feet through a garden. (For a tutorial in using leading lines in your photographs, see this from the wonderful Saxon Holt.) Have a look at some other features that work the same way.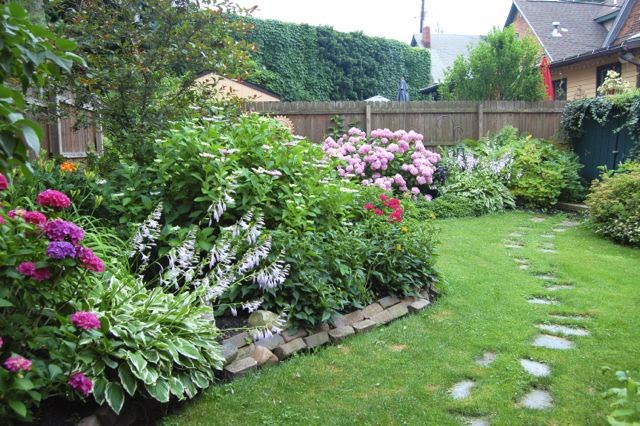 Now imagine this lawn without the stepping stones. Don't they reinforce the directional siren call to the back corner?
The jar attracts your attention. The archway beckons. The curved pathway takes you by the hand and pulls…
The Toronto Botanical Garden obligingly includes pathways through the garden beds. I can't resist, myself. Could you?
This zigzag of stonework and repetition of classical urns sings, Come closer, closer. Don't you want a closer look?
These tricks work on your ambulatory instincts, even in a tiny garden like mine. Other people think so, too, because they've made the leading picture of my Microgarden in this post my most-pinned picture on Pinterest. What techniques do you use to reel in the fishing line on garden guests?