Guy McClean directs his team using the slightest touch
While cattle mooed in the background, the Royal Winter Fair rep at the new President's Choice Animal Theatre told us about the attractions at the fair this year. And as we listened, Guy McClean, the Horse Whisperer from Australia, warmed up with his four horse "mates." We were amazed.
Other acts will include
Goats on the Go (which we also had a preview peek of), President's Choice SuperDogs, the Spirit of the Horse, sheep herding,
Jack Russell terrier racing, 4H demonstrations and even
an animal therapist. They're all part of the ten hours of daily programming in the 10-day run of the annual fair, which showcases Canada's agricultural excellence. It runs November 1-10, 2013.
Here are  things we liked. (We couldn't help thinking that Canada Blooms might take a tip or two.)
The aMAZEing Food Journey lets kids roam under the soil with the root veggies.
It's family-friendly.
Kids, with families or schools, amount to about 40% of the Royal's audience. Of course, furry critters and goofy vegetables are a natural draw. But the Royal has also created educational fun this year, like the aMAZEing Food
Journey interactive exhibit. Geared for children, it shows how food gets from the farm to the table, complete
with massive hanging vegetables at the entrance, beckoning you inside. (What might we do at Canada Blooms? An Eaten by an Earthworm tunnel, all about soil?)
Who knew there were so many different squashes? Well, besides you.
Prize produce of all sorts, with labels, so we can see in the flesh what we usually see on the seed packets. The peanut squash is delightfully bumpy. Those giant cornstalks and sunflowers always add a bit of the Jack-and-the-Beanstalk magic to a Royal visit. And the 4H mosaics using nothing but seeds harks us back to local agricultural fair exhibits like pressed leaves. We pressed a few ourselves.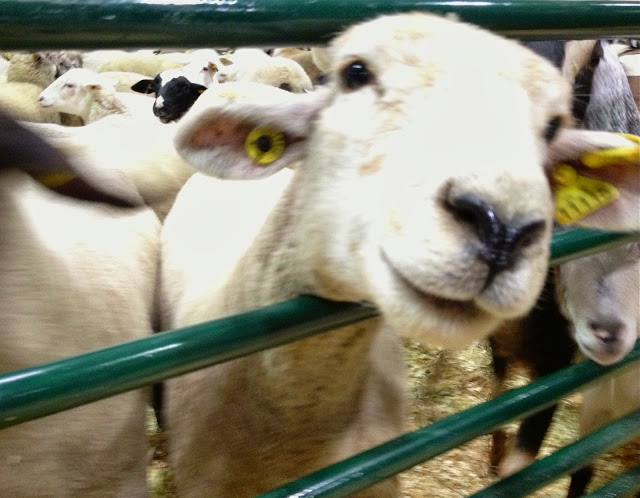 Baaaaaaaaaaa! Translation: Feed me! But no junk food, pleaaaaaaaaaase.
We had a very quick interaction with some fuzzy noses at the petting farm in Ag-tivity Central. You'll have a longer visit. Kids will also like the play area – and parents will love the chance to sit for a rest.
Imagine. A chance to sit, sip a glass of wine and watch chefs compete with local ingredients [Ed: or, at least, using them].
A focus on food, especially local food.
A new feature, For the Love of Food focuses on local food, chefs, and exciting cooking competitions – like the Road to The Royal challenge that uses locally grown and produced ingredients. For the Love of Food "links farmers, scientists, producers and chefs, all sharing a passion for food."
The ambience is inviting and comfortable, with cafés, bars and restaurants scattered over the grounds. We were particularly impressed with the cooking theatre section. Theatre seating was flanked by a bar on one side, and comfy seating with horticultural plantings on the other.  How civilized!
Later, we sat in the Hitching Ring Café and Bar in the Coliseum. The Royal says it's trying to elevate the level of cuisine you get at its food outlets. It isn't just cello-wrapped tuna sandwiches or overpriced pizza anymore. We tried a sample of pesto chicken pizza and a small-plates version of roast beef, mashed potato and gravy served in a little boat. Both were delicious.
Next to the Hitching Ring is the warm-up ring for the horses, so you can watch while you nosh. No need to worry about dust kicked up from the hooves. The surface for the ring is a special mix of sand and fibres that stays put, and also provides the horses with a nice, bouncy surface.
Nature Fresh grows its tomatoes in a coir medium in greenhouses of its own design
Of course our eyes bugged out when we saw Nature Fresh Farms perfect
small greenhouse, complete with bumble bees (not roaming free for the show, of course) and chains of ripe tomatoes.
If you buy greenhouse-grown tomatoes, peppers or eggplant, you've probably bought Nature Fresh veggies – they're Canada's largest independent greenhouse grower, with
organic and conventional produce.
Their demo greenhouse was constructed for the show, but they're toying with the idea of selling them commercially. Wouldn't you love one? Each of us certainly would. Nature Fresh has no idea what they'd cost; likely out of our price range. But we live to dream. Dream on at The Royal.