The Aster Awards sit on the podium, eagerly waiting to be presented. Shall we be kind and call my photo painterly?
It's good to have a humbling experience sometimes. It happened to me last night at the presentation of the Toronto Botanical Garden's new Aster Awards, which recognize what the TBG calls Canada's green stars. But before I get to my minor comeuppance, let's get the details out of the way.
In 2013, the three honourees of the inaugural Aster Awards included our own bee guy, ecologist Scott MacIvor, named as a Rising Star. Noted landscape architect Janet Rosenberg and Manufactured Landscapes photographer Edward Burtynsky were each presented with Asters. And I was honoured to be invited, along with other members of the press. Too bad about my, um, camera.
For those watching at home, let this be an object lesson in how not to take photos at an event. I could whine about my broken lens, but you could also blame my pigheaded refusal to use flash or tripod.
Honorary Chairs for the Awards were artist Charles Pachter and style icon Sandy Stagg – and thank goodness for my iPhone, giving me one reasonably legible shot. Both were charming. Afterwards, I accosted the artist with the
words, "Camp White Pine." Like my son, Charlie was a camp counsellor
there once. His comment, "That's where I met Margaret Atwood!"
On the other hand, this shot of Scott MacIvor, whose work I wrote about here, is a study in pointillism. Thinking of it this way gives all that nasty photographic noise a kind of artistic legitimacy, doesn't it. Yeaaaaah, that's the ticket!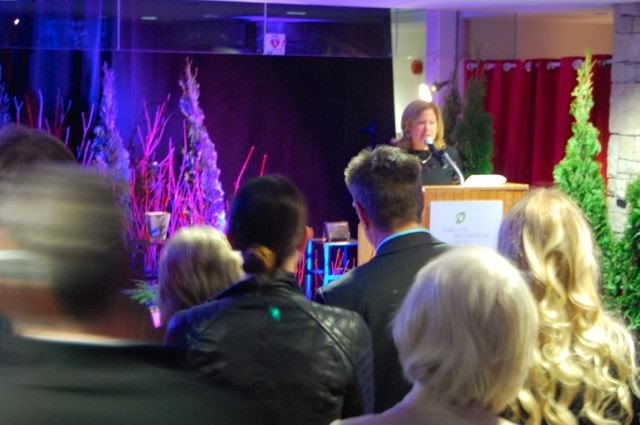 After the presentation, I also accosted Janet Rosenberg to let her know I'm a grovelling fan.
Naturally, my worst photos of the evening were saved for Edward Burtynsky – one of Canada greatest living photographers. Note the "nude descending staircase twirling lasso" thing going on with his hand. It's a shame they were all so lousy because, in person, Burtynsky has a kind of tall, Russell Crowe-like attractiveness. I had no idea. Another excuse for fandom.
Perhaps you prefer this version? I do. We can all pretend I did it on purpose.